Is 'The Flash' new tonight? When to watch season 3, episode 19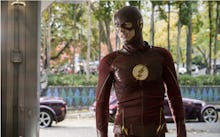 Last week's episode of The Flash saw Barry Allen go toe-to-toe with Abra Kadabra, yet another villain from the future — this time, the very distant future. Abra Kadabra hails from the 64th century, meaning he happens to know all about Barry's future. But his most important bit of knowledge just happens to be the key to saving Iris' life. He knows Savitar's identity. And that information's price was his freedom.
In the end, though, Barry could not justify letting Abra Kadabra — a mass murderer — go free, even if it meant preventing Iris' murder. So, in episode 19, titled "The Once and Future Flash," Barry will travel to the future to learn the secrets to stopping Savitar. Once there, he will discover that Iris' death has had a profound impact on the rest of Team Flash — at least those who remain. 
Unfortunately for us, we will have to wait a few weeks to see how everything plays out, as The Flash will be taking a short hiatus, and will return with the first of the final episodes of season three on Tuesday, April 25. And while the wait may be a bit hard to bear, from the looks of things, it will be completely worth it. 
When The Flash does return, not only will Barry seek out more weathered versions of his team in the future, but in the present, Caitlin Snow has turned back into the evil Killer Frost, and is now on the loose. And with yet another future headline seeming to come true, we have to wonder — can Iris actually be saved?
To hold you over for now, take a look at this exciting promo for episode 19:
The Flash returns on Tuesday, April 25 at 8 p.m. Eastern on the CW.
Mic has ongoing coverage of The Flash. Please follow our main The Flash hub here.