This body-positive blogger wants you to know that the "fat friend" stereotype is BS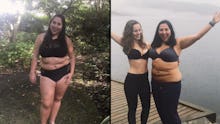 Teen movies and TV shows have long wanted us to believe that this stereotype exists. She's the unlikely sidekick of the prettiest girl in school. She's the person who's ordered to take the picture, and not stand in it. She's the insecure one, worried about how she looks. She is, according to these types of movies and shows, the "fat friend." 
But according to body-positive blogger Michelle Elman, the fat friend stereotype is something that needs to be destroyed immediately, because it really doesn't exist. 
In a powerful Instagram post Saturday, Elman posted a picture of herself in a bra, with a message to anyone who's struggling with the idea that they are the "fat friend" and are therefore linked with all the negative connotations that come with that title. 
"There's a stereotype around being the 'fat girl' in a friendship group," Elman wrote. "She's the insecure one, the one constantly complaining about her body and talking about diets. I couldn't call bullshit more on this stereotype." 
In truth, Elman herself has struggled with wearing a bikini and showing off her body, due to the fact that multiple surgeries left scars on her stomach that she felt looked like tummy rolls. The experience made her launch her own #ScarredNotScared campaign, which promotes self-love.
However, the experience, according to Elman, still never made her act like a how a stereotypical "fat friend" is supposed to act. 
"Since the age of 11, I have always been the 'fat' friend but I have never been THAT girl," Elman wrote. "Even with all my insecurities around my scars, and my body in general, I was never the girl who sat inside — I refused to because of my pride and ego and my surgeries never let me be the person who missed out on life." 
It ultimately made her braver. 
"I was the first to whip off my top and the thought that my body was different wasn't there," Elman wrote of the photo she posted. "The fact that I know many girls, fat or skinny, would miss out on opportunities like this is what fuels my body positivity. Body positivity isn't about being able to take underwear selfies, it's about not letting your underwear or your swimsuit be the reason you aren't taking part."
Elman's ultimate message: Even if you find yourself being the heaviest friend in a friend group, that does not mean you can't wear a bikini or are forced to be more timid. You're still you, so be you. 
In response to the pictures, Elman has seen a wave of support in the form of 5,000 likes and more than 100 comments too, including things like "Thank you for setting such an amazing example. I really needed to be reminded of this" and "Friendship must be without any limits and stereotype."