Amazon Cash lets you make purchases without a credit or debit card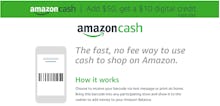 By now, you're probably familiar with the ritual of carefully pecking out your credit card number when you're buying something online — but that's a potentially dangerous process that could theoretically lead to identity theft. If having your banking information stolen concerns you, Amazon now lets you make online purchases with cold hard cash.
OK, so here's where things get a little silly. In order to use Amazon Cash, you have to go into a physical store and have them load your cash onto your Amazon account. It's like buying a gift card for yourself. So, basically, you have to go into a physical store in order to go back home and then shop online — at which point you could have probably just purchased the thing in a physical store, but that's neither here nor there.
If you're interested, here's how it works.
How does Amazon Cash work?
Your first step is to go to Amazon's website and claim your own personal barcode that's linked to your Amazon account. You can either have an image of the barcode sent to you via text or simply print it out at home.
Then, bring this barcode with you to a store that participates in this program — CVS Pharmacy is the biggest name so far, but there's a complete list here — and take your cash to a clerk. They'll be able to scan that barcode of yours, take your cash and have that money loaded onto your Amazon account. 
Right now, the minimum amount you can add at one time is $15 and the maximum is $500. The barcode you use will be the same every single time, so you only have to generate it once and then you can just hang onto it every time you want to load more cash.
Then, once you head back home to shop on Amazon, you can apply those funds to your next Amazon purchase at check out. These funds are all lumped in with other money on your Amazon account, like any gift cards or store credit you have. 
Unfortunately, adding money to your Amazon account this way seems like a one-way transaction, so make sure you're actually ready to spend that money before you load it onto your account. Amazon's site notes that "Amazon Cash transactions are non-refundable, except as required by law."
So, there you have it. You no longer need to use a credit or debit card to shop on Amazon — but if you're really that concerned about having your banking information stolen, shopping with cash in an old-fashioned physical store might be the simpler solution.