Gwen Stefani's "makeout playlist" features this song — and Blake Shelton approves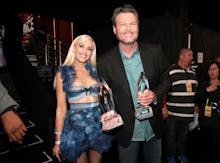 During Monday's episode of The Voice, things got a little too revealing thanks to judges Gwen Stefani and Blake Shelton. 
Stefani and Shelton have been dating since November 2015 and the couple shows no signs of slowing down. When contestant Hunter Plake sang Foreigner's iconic song "I Want to Know What Love Is," Stefani decided to spill some tea on her exclusive "makeout playlist."
"You took a song that's actually on my makeout playlist," the "Cool" singer revealed. Now we know, Gwen. 
Without missing a beat, Shelton chimed in and confirmed the song's status. "I told you I knew that song," he joked. Although we're not sure he was joking. 
Shelton and Stefani's love tour didn't just stop there. It seems their love is in full bloom this season, except fellow judge Alicia Keys is keeping them apart. In another moment in the episode, Keys' ponytail is blocking Shelton's view of his girlfriend and he calls her out. 
It's clear these two are truly in love and we're all along for the ride. 
Mic has ongoing The Voice coverage. Check out our main The Voice hub here.