Gov. Rick Scott reassigns 21 more of Aramis Ayala's cases, citing death penalty opposition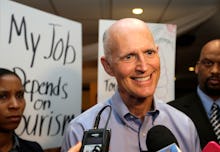 Florida Gov. Rick Scott continued his bizarre vendetta against Orange-Osceola State Attorney Aramis Ayala on Monday when the governor reassigned 21 more of Ayala's murder cases because she refused to seek the death penalty.
Scott had previously reassigned the case of Markeith Loyd — who allegedly shot and killed his pregnant ex-girlfriend and a police officer in December — to Ayala's fellow State Attorney Brad King, whose jurisdiction includes Lake and Marion counties.
"Each of these cases I am reassigning represents a horrific loss of life," Scott said Monday, according to the Orlando Sentinel. "The families who tragically lost someone deserve a state attorney who will take the time to review every individual fact and circumstance before making such an impactful decision."
Ayala — Florida's first and only black elected prosecutor — sparked a political panic attack among state conservatives in March when she announced that she would not seek the death penalty for anyone convicted on her watch. Scott responded by reassigning the Loyd case, while Ayala's fellow state attorneys rebuked her and GOP lawmakers debated gutting her budget.
"[Our] team feels it prudent to revisit our recommendation to the committee as regards to [the Ninth Judicial Circuit's] budget," Florida Rep. Scott Plakon told the House Judicial Appropriations Subcommittee, according to the Orlando Sentinel. "Previously, we used more or less an across-the-board approach and now believe a more targeted approach might be more appropriate."
But Ayala has stood by her decision. She insists — as do a number of high-profile critics — that Scott abused his power as governor in overriding her prosecutorial discretion, and that her decision was in the best interests of her constituents.
"Ms. Ayala remains steadfast in her position that the governor is abusing his authority and has compromised the independence and integrity of the criminal justice system," Eryka Washington, Ayala's spokesperson, said in a statement.
Florida has the second largest death row in the United States, and was one of just five states to execute people in 2016. But there is no evidence that the death penalty deters crime. And the lengthy appeals process that often accompanies it renders it surprisingly devoid of closure for many victims' families.
"Life, no chance of parole, we get closure," Ron Daniels — father of Markeith Loyd's victim, Sade Dixon — told WOFL. "[But] now if you give him the death penalty, he comes back. Every time he appeals this family or any family has to relive that case all over again."