Remarkable teen Ifeoma White-Thorpe gets accepted to all the Ivies, plus Stanford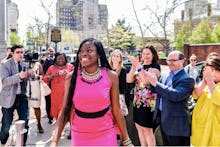 This teen just got into all eight Ivy League schools and Stanford. How's your day going so far?
As ABC 7 reported Tuesday, Ifeoma White-Thorpe, a senior at New Jersey's Morris Hills High School, has now been accepted to Harvard, Yale, Princeton, Columbia, the University of Pennsylvania, Cornell, Brown, Dartmouth and Stanford. She said she was "shaking" when she clicked on her final acceptance letter, and must now decide which of these illustrious institutions she'll attend. 
"I got into Harvard early action so I figured I'll just go there, so then I got into all the others and I was like, 'Wait, now I don't know where I want to go,'" White-Thorpe told ABC 7, adding that she'd give preference to schools that offered merit scholarships and financial aid. Listen up, Ivies.
Wherever she winds up, White-Thorpe plans to study biology and pursue a career in public health. 
White-Thorpe ranks high in her advanced placement classes and serves as president of her high school's student government, but she thinks her poetry and writing got her noticed. 
In 2015, when she was a sophomore, White-Thorpe was named one of two winners in the National Liberty Museum's Selma Speech and Essay Contest, her entry having been selected from a pool of over 800 applications. Her essay, which she recites in the below video, covered equal educational access, freedom and racial justice. 
"In order to advance my rights, I will continue to dismiss the stereotypes of the black female," she wrote, "and assist in creating a new mold in which we are viewed as atypical of what we once were. I will be outstanding. I will be ravishing in the way that I sew my words together to create a beautiful, unmitigated harmony."
Something tells us White-Thorpe would get along swimmingly with the preteen over at Cornell who's rated the academic experience "kind of easy."