4 years later, why do people still talk about hating Anne Hathaway?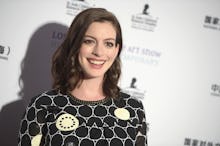 Four years have passed since Anne Hathaway took home her Oscar for best supporting actress in Les Miserables. The actress has starred in numerous films, headlined a hit off-Broadway play and given birth to her first child, but one thing has not changed: the ongoing conversation about why people dislike her. 
While making the rounds for her latest film, Colossal, Hathaway shared that she is still asked about the animosity regarding her personality. In fact, she feels she is asked about it every time she does an interview. 
"I understand in the context of this movie why it should be brought up," she told Jezebel. "But it comes up in every interview I do, just about. I am ... not eager, but I am ready for the conversation to move to a place beyond it."
The hostility toward Hathaway escalated rapidly in 2012 as Les Miserables made the publicity rounds and the actress was an increasing frontrunner for the Academy Award. Despite her powerful performance in the movie musical, it was the actress' red-carpet persona that dominated headlines. Criticized for being too prepared, too perky and too perfect, she was described as "that drama club girl in high school who just wouldn't stop bursting into song in the hallways." The emotions she inspired resulted in a nickname and hashtag — #HathaHaters — and a joke in Amy Schumer's film Trainwreck, when Schumer's character reprimands her boyfriend by saying he was acting like Hathaway on Oscars night. (Hathaway took it in stride, laughing about it on social media.) 
Hathaway is far from the only young woman in Hollywood who has faced an onslaught of criticism for her personality. Zooey Deschanel is too quirky, January Jones is too bitchy, Katherine Heigl is too outspoken. Kristen Stewart is too unfriendly. In fact, there are entire compilations of celebrities that people boast of "irrationally hating." 
"Young women in Hollywood cannot win, no matter what they do," Roxane Gay wrote about the 2013 Oscars ceremony. "There are more than a few smart jokes that could illustrate this rock and hard place women in Hollywood are crammed into."
Hathaway has often been compared to Jennifer Lawrence, the former being criticized for being too prepared, while the latter, who tripped when accepting her award at the Oscars, was considered refreshingly authentic or real. But a year later, Lawrence was under scrutiny, with people speculating she was too full of herself — after she was placed on a pedestal by the very public that was now tearing her down. 
It's a familiar pattern, Claire Fallon writes of the quick switch from love to hate: "We anoint an It Girl, a beloved female icon, then rapidly begin to find things to despise about her. Soon she's left torn and trampled in the dirt as we rush past her to the next victim." They're torn down for being exposed as human and flawed after being adored and worshiped, and it's easy to tear someone down when, thanks to smartphones and gossip websites, she's under scrutiny 24/7.  Fallon writes, "We hate these women, often, all the more because they aligned themselves with feminism and then proved flawed." 
In the years since the surge of the #HathaHaters, Hathaway has talked about coming to terms with the public dislike, using it as an opportunity to work on her own self-growth. She told Jezebel: 
How the world feels about me has nothing to do with me. How other people treat me has nothing to do with me. But if anything that anybody said resonated with me as something I'd like to work on for myself, I took it in like that. And to that extent, I feel like I got to shortcut a lot of my growth. To that extent, even though I wouldn't have chosen to go through it, I still found a way to be grateful to it. 
Until popular culture has a massive breakthrough and this cycle of adulation and hatred comes to an end, perhaps younger actresses will look to Hathaway for advice on how to survive. 
Mic has ongoing movies coverage. Please follow our main movies hub.