Russia Metro Attack 2017 Update: Who was alleged suicide bomber Akbarzhon Dzhalilov?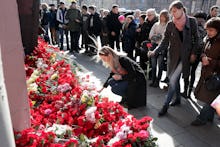 Akbarzhon Dzhalilov, a Kyrgyzstan-born Russian citizen, has been identified as the alleged bomber behind Monday's deadly St. Petersburg metro attack, according to reports.
Dzhalilov, 22, is believed to have set off the explosive device that killed 14 people and wounded 51 others on a subway train.
Dzhalilov is also believed to have died in the attack — contrary to the accounts of some witnesses who said they saw a man leave a bag on the subway car before he exited the train, according to NPR. 
A second, larger explosive device was found at a different metro stop, but it was not detonated. 
Russian Prime Minister Dmitry Medvedev described the attack a "terrorist act."
It was not clear Tuesday morning if Dzhalilov had acted alone or with others, the New York Times reported.
What we know about Akbarzhon Dzhalilov
Dzhalilov was born in 1995 in the city of Osh, according to the Kyrgyz government.
He had been living in St. Petersburg for the past six years, according to a Russian media report cited by the Times.
Social media posts showed Dzhalilov had an interest in martial arts and cars. He also had a link to an Islamic website, Tawba, which posted messages about the Islamic faith every few hours, the Times reports. Questioning of family and neighbors indicate the alleged suicide bomber had worked to repair cars in St. Petersburg.
According to CNN, some analysts suggested that Dzhalilov could be affiliated with Chechen separatist groups or with ISIS, but no groups have claimed responsibility for the attack and Russian President Vladimir Putin — who had been visiting St. Petersburg for a pro-Kremlin media forum — said it could not confirm any details of the investigation.
Kerlan Abyldaev, the Kyrgyz foreign minister, said Dzhalilov's motives were not yet known.
Trump offers condolences to Putin
President Donald Trump offered condolences to Putin and condemned terrorism in a phone call with him Monday evening, according to the White House.
"President Trump offered the full support of the United States government in responding to the attack and bringing those responsible to justice," a White House statement read. "Both President Trump and President Putin agreed that terrorism must be decisively and quickly defeated."