Why you should care about the Neil Gorsuch filibuster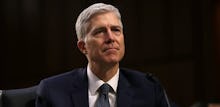 On Friday, the Senate will free itself of the mechanism that demands compromise and pick a Supreme Court justice. It is the latest pivot to partisanship in a long-divided city.
Republican and Democratic senators each blamed the other Monday for the disintegration of the Senate's requirement that 60 votes be required to advance a nominee. "We have eroded the process for reaching agreement and dishonored our long traditions of acting above partisanship," said Sen. Chris Coons (D-Del.), the 41st Democrat to say he would support the Gorsuch filibuster. Reaching that threshold guaranteed Sen. Majority Leader Mitch McConnell will invoke the "nuclear option" on Friday. That means Trump's Supreme Court nominee will be confirmed by a simple majority vote. "This is the end of qualification standards to be on the Supreme Court," Sen. Lindsey Graham (R-S.C.) said after Republicans voted Gorsuch out of committee. "Hamilton is rolling over in his grave."
The death of the filibuster for Supreme Court nominees is another footnote in the slow and ugly decline of the Senate as an institution of compromise and effective governance. In 2013, Democrats began confirming judicial nominees with simple majorities after Republicans blocked some of Barack Obama's selections. The GOP howled that move eroded the Senate's role as a body that demanded compromise. Now, they're using that same simple majority move for Gorsuch, setting the precedent for any future Supreme Court nominees to be passed without bipartisan consensus.
The Supreme Court will now become more partisan and ideological, swaying with whatever party simultaneously controls the Senate and White House. The Senate is now more like the House of Representatives than it is a chamber that protects the minority viewpoint. The filibuster is still alive and well for bills the Senate considers, but there, it has also become a consistently partisan tool.
There are many reasons for the Senate's trajectory. Democrats are angry Merrick Garland was not given a hearing last year. Republicans feel the presidential election was partly a referendum on who should be appointed to the Supreme Court. McConnell and Sen. Minority Leader Chuck Schumer want to stymie each other.
Blame whoever you want, but the Senate is now less of a "cooling saucer" and more the home to fiery partisan showdowns.
This is Mic's daily read on Donald Trump's America. Welcome to the political newsletter that appreciate arcance Senate procedure.
Highlights:
• Today: Neil Gorsuch will pass despite the filibuster. Here's why that matters.
•  More: More bizarre revelations about Trump and Russia — both for and against the president's narrative.
•  Even more: The Republicans are back on health care. This time, House conservatives want to gut mandated coverage for pre-existing conditions. That's not going to go over well.
•  Trump's agenda today: Hosting a town hall with CEOs. Speaking at a meeting of North America's Building Trades Unions. Meeting with EPA Administrator Scott Pruitt, Treasury Secretary Steven Mnuchin and Housing and Urban Development Secretary Ben Carson. Hosting Gov. Ralph Torres of the Northern Mariana Islands.
From the Seychelles, with love
The Washington Post reported Monday night that Erik Prince, founder of private security contractor Blackwater, met with a close associate of Russian President Vladimir Putin in the Seychelles shortly before Trump's inauguration. The meeting, on a small chain of islands northeast of Madagascar, was an attempt to establish a back-channel line of communication between Trump and Putin. Prince, the brother of Education Secretary Betsy DeVos, was a top donor to the Trump campaign and has ties to Chief Strategist Steve Bannon.
Meanwhile, Carter Page, an associate of Trump's campaign last year, confirmed to BuzzFeed and ABC that he met with a Russian intelligence agent four years ago and was caught up in American surveillance. Page blamed the Obama administration for revealing his identity as "Male 1" in surveillance transcripts included in a 2015 court filing.
The Trump point of view
The president continues to refute all claims there are ties between him and Russia. Fox News and Bloomberg both reported Monday that Susan Rice, a top official in the Obama administration, asked for names of Trump transition officials caught up in American intelligence surveillance to be "unmasked" — names of people whose communications are incidentally collected during surveillance of others are normally blacked out. Those names were reportedly then passed along to top White House officials. Susan Rice flatly denied leaking any information Tuesday on MSNBC.
Trump called this a "crooked scheme" on Monday morning. That was followed by Sen. Rand Paul (R-K.Y.), who has recently developed a relationship with Trump, calling on Rice to testify in front of Congress. While there is still no evidence that Trump Tower was specifically targeted by surveillance, Trump associates appear to have been caught up at times in surveillance of foreign operatives suspected of wrongdoing.
One thing we're all wondering: What does it mean that Trump associates were talking to foreigners being surveilled by the U.S. government?
A new Republican health care proposal
Donald Trump has said he will make a deal on health care, and negotiations have begun — again. Vice President Mike Pence met with members of the House Freedom Caucus on Monday night to discuss what a new proposal would need to draw their support. The New York Times reported Republicans in that meeting discussed undermining coverage of pre-existing conditions, a widely approved key protection of the Affordable Care Act.
The proposal would let states opt out of essential health benefits, which requires insurers cover things like hospital visits, pregnancy and pediatric care, an idea that sent moderate Republicans fleeing the bill two weeks ago. It would also let states opt out of requiring insurers to give people who are the same age the same price. Without that second provision, insurers could charge people with pre-existing conditions, like cancer or diabetes, much more than healthier people. In combination, these details could allow insurers to charge patients with conditions like cancer more money for plans that don't guarantee coverage of treatments like chemotherapy. Read Mic's breakdown of how the proposal would affect your health insurance.
If the GOP cannot find consensus on health care, it might mean Trump will turn to working with Democrats — something House Speaker Paul Ryan and Freedom Caucus members do not want to see.
News and insight you cannot miss: 
•  Attorney General Jeff Sessions has ordered the Justice Department to review all police reform agreements. Federally mandated reform of local police departments was a major push of both attorneys general under Obama. (Mic)
•  Trump has signed the bill that rolled back the internet privacy rules the Obama administration announced last year. The new rules, passed by the Republican House and Senate, allow internet service providers to sell your online browsing history without your consent. (Daily Beast)
•  Trump proposed cutting the Interior Department's budget by $1.5 billion. Now, he's donating his $78,333 first quarter White House salary to the National Parks Service. That's .0052% of the proposed cut. (Mic)
•  A suicide bombing in a St. Petersburg subway station left up to 14 people dead and dozens more injured. (CNN) According to the White House, Trump spoke with Putin on Monday to convey his condemnation of the attack in St. Petersburg. The White House did not note if the call veered to other topics.
•  Tuesday is "Equal Pay Day." Activists are using the visibility to attack Trump rescinding Obama-era policies that mandated federal contractors pay women equal to men. (NBC News)
April 4, 2017, 12:43 p.m.: This story has been updated.