'Zoey 101' star Matthew Underwood saved a baby from a car accident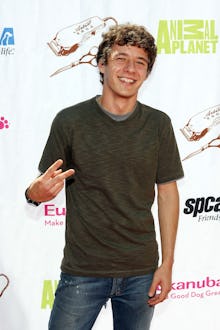 Matthew Underwood, who played Logan on Nickelodeon's hit teen show Zoey 101, is now a hero.
During an interview with Florida news channel WPTV, Underwood revealed that he has been busy saving lives. The former child actor was driving in Port Lucie, Florida, on March 30 when he noticed a car crash. 
A driver had crashed into a tree after veering through several lanes. Underwood decided to stop and offer assistance to the driver. When he got to the car he noticed the driver was unconscious. 
"I thought maybe they were having a heart attack," Underwood said. The couple driving the car was identified as Jessica Ruth Hand and John Jacob Rodriguez after the accident. While the couple was alive in the car after the crash, the situation seemed grim for Underwood. "As far as I was concerned, they looked dead," he said. 
Much to Underwood's surprise, when he was attempting to help the couple he noticed there was a baby in the car as well. The couple's 4-month-old son was conscious, but not in the baby seat.
"I heard a baby cry and that's when I really stopped caring about anything that was going on there and I immediately ran around the other side of the car and looked for the baby," Underwood said. The police were then called to the scene and the couple was arrested.
TMZ confirms that Hand, who was driving the car, admitted to doing heroin before getting behind the wheel. Both she and Rodriguez face charges for child neglect in addition to several other drug related charges.
All Underwood wants is for the couple to get help after this. "I hope they can get rehabilitated. I hope they can wake up and want their child back so much, want their life together, that they'll get clean," the actor said.
Mic has ongoing celebrity coverage. Please follow our main celebrity hub here.