'Designated Survivor' Episode 15 Spoilers: What will happen in "One Hundred Days"?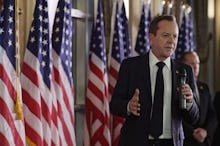 The first season of ABC's new political drama, Designated Survivor, continues to not disappoint, as the series delivered yet another exciting episode last week. In episode 14, titled "Commander-in-Chief," President Kirkman learns that it was actually the terrorists behind the Capitol bombing who made the decision that he become the designated survivor — and thus president.
While we still do not know exactly who was behind the devastating terror attack, it seems that we are closing in on the answer to the season's biggest secret. After weeks of searching, the FBI finally captured Charles Langdon, the former president's chief of staff. And while Langdon did not take part in the planning of the attack on the Capitol, we learn he was certainly complicit, as the woman he was having an affair with was intimately involved, and used him for classified information. 
Though Langdon was only able to supply the FBI with limited information on the Capitol attack, he did clear up another lingering question: Is Aaron Shore a traitor? For fans of Aaron, and his potential romance with Emily Rhodes, you can rest easy knowing that Langdon cleared Shore of any involvement in the terrorist attack. Unfortunately, though, the investigation took a toll on Shore, and he ended up tendering his resignation to President Kirkman. 
What's next?
For the foreseeable future, Emily will be serving as Kirkman's chief of staff. But that doesn't mean that Shore is going to be leaving politics altogether. It appears from the promo for Wednesday night's episode that Shore will be offered a job from Speaker Hookstraten. And this is particularly interesting, since it has never been fully been clear whose side Hookstraten is on. While she certainly doesn't seem to be involved in the Capitol attack, she has not always been an ally to the new president. 
Meanwhile, President Kirkman will hope to reset the clock on his first 100 days in office, but a statement from his wife will lead to questions over who is running the White House. And in a show like Designated Survivor, you know there will be some thrills as well, and it looks like Agent Wells may be closer than ever to uncovering the truth behind the Capitol bombing. 
To hold you over until Wednesday night's episode, here is the official synopsis for episode 15 of Designated Survivor: 
"As President Kirkman releases an agenda to reset his presidency, Alex makes a controversial public statement that threatens to derail it. Meanwhile, FBI agent Hannah Wells unknowingly finds herself in the center of a dangerous trap while getting closer to the truth.  Mark Deklin guest stars as Senator Jack Bowman."
Not enough? Take a look at the below sneak peek for "One Hundred Days":
Mic has ongoing coverage of Designated Survivor. Please follow our main Designated Survivor hub here.