'Diablo 3' Necromancer Beta: PTR coming for Necromancer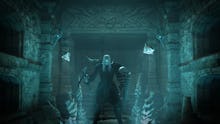 Diablo 3 players certainly aren't lacking for things to do right now with a new season in full swing. 
Still, new content will always be appreciated. The upcoming "Rise of the Necromancer" content pack will bring the new-ish Necromancer class to the game later this year. If you're the impatient sort, there's good news: There will be a way to play the class early.
PTR coming for Necromancer in Diablo 3
According to a March Battle.net post, there will be a public testing period for the Necromancer prior to its release. However, it will be "a little different" from other public testing. What that means, and when the testing will happen, both remain to be seen.
It's possible the public test will be invite-only or will require a preorder for "Rise of the Necromancer." Maybe it will only be for hour-long chunks of time during a weekend like the Splatoon 2 beta. We'll have to wait to find out. 
Blizzard is still being cagey about when "Rise of the Necromancer" will come out, though they're aiming for the second half of the year. It's likely we won't know when the PTR begins until we know when the content pack actually releases. Stay tuned for any new information about when you can raise the dead in Diablo 3.
More Diablo 3 news and rumors
Mic has all the latest Diablo news, including updates on when we might be able to expect the Necromancer's appearance, Diablo 3's recent anniversary patch and PS4 patch notes.