Why is it still so hard to find a good plus-size swimsuit?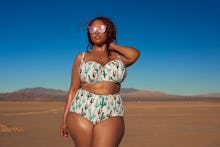 Between the unflattering fluorescent lighting and just how grueling it can be to find something that actually fits both your top half and your bottom half, swimsuit shopping can be a living, breathing hell. 
Now multiply that experience by, say, 20 or 30. That's about how bad it is for many plus-size women to find a swimsuit that not only fits, but is actually cute.
This point was illustrated best by blogger Aliss Bonython, who posted a picture of herself struggling in a dressing room, wearing a swimsuit that barely covered her body. "The reality of bikini shopping as a plus-size woman," she wrote in the photo's caption. 
Although Bonython's experience was harrowing, it pales in comparison to what it would have been like 10 years ago for a plus-size woman to find a suit that fits. You can credit the body positivity movement — and high-profile plus-size women like Ashley Graham — for some of this progress. 
"I think that it used to be easy for companies to ignore the plus-size market, because you didn't see a lot of diverse representation in mainstream media," Sara Mitzner, the creative director at Swimsuits For All, one of the few companies creating high-quality and cute swimsuits for women who wear up to size 34, said in an interview. "Now, thanks to the overwhelming support of women like Ashley Graham, Hunter McGrady and GabiFresh, brands have to take notice and start offering pieces for women of all different sizes." 
Still, companies like Swimsuits For All remain in the minority. There are brands — like Torrid, Target, Monif C, ModCloth and soon Eloquii, which will be launching its first swimsuit collection in mid-April — that carry plus-size swimwear, but most mainstream brands do not, and the industry as a whole remains largely uncharted. 
So to find out what's really going on here, and what needs to change, we spoke with a number of brands and a plus-size model about the issues facing the industry and how progress can actually be made. 
What are the problems facing plus-size women now?
Options, options, options 
The most overwhelming problem facing plus-size women is the lack of options when it comes to swimsuit styles. For Nicole Spiezio, a plus-size blogger and model, right now she sees two types of women being targeted for swimsuits. 
"The options are either like tankini and the swim-dresses, which feel a little bit more conservative than my personal style," Spiezio said. "Or you can go the sexy bikini route, which I love as an option but it's not right for me." 
It's either super-matronly, or super-sexy. Beyond just fit concerns, plus-size women are yearning for more options when it comes to styles too. 
"The issue for plus-size women has been finding a cute swimsuit that is not 'skirted' or trying to hide something or looks like it was made for her grandmother," Jodi Arnold, Eloquii's vice president of design, said. "Everyone wants to look and feel good no matter what the occasion."
It's not one-size-fits-all 
Also holding back progress is the fact that most plus-size swimsuit models have hourglass figures, meaning that women like Spiezio, who described herself as "oval-shaped," only see prospective suits modeled on a body that looks nothing like their own. 
"It's not the shape of my body," Spiezio said. "It's hard to visualize what's going to look good on my body. I think that the great thing right now is we are pushing how sexy and cute and feminine plus-size swimsuits can be. And they are making cuter stuff than they made previously, but I struggle to see how I fit in."
This is a problem that retailers have noticed. As one of Torrid's own designers said, retailers often fit and design swimsuits according to just one body type, not considering the rest. 
"Plus-size women aren't all shaped the same; they can carry their weight in different places," Keni Rivas, a Torrid swim technical designer, said. "Oftentimes, retailers do as little work as possible, offering suits that would fit 'most' bodies — which just doesn't cut it in this customer segment." 
Online only
What's making this process even more difficult for women like Spiezio is that most of the swimsuits in sizes for her (she's a size 24) are online. So imagine trying to buy a swimsuit that's only modeled on a person several sizes smaller than you, with a completely different body type. It is, to say the least, difficult. 
"As a plus-size woman, I like to try on my clothes," Spiezio said. "Being relegated to just online is insulting. Plus-size swimsuits are very expensive too, and when things are that expensive I would like to try it on." 
And that makes sense, doesn't it? So between the fact that styles are limited, and the suits are only shown on — and designed for — a certain body type and sold online, it's very, very difficult for Spiezio to find a suit for her. 
What are most retailers getting so wrong?
There's a disconnect between plus-size swimsuit designers and retailers and their actual customers. 
"They are not approaching the design from a fashion point of view," Arnold said. "Or have too many pre-conceived ideas about what a plus-size woman wants to wear when it comes to swimwear. Or may even think that the market is not big enough for women in this size range who are willing to wear a swimsuit." 
It almost seems as though retailers and brands are just not listening to their customers — many of who have strong ideas about the way they want their swimsuit to look. 
"I think some plus-size retailers think women want to hide in their swimsuits, to not be seen," Spiezio said. "But I think if you're going out for a fun day at the beach, you wanna be seen! You're still you. You want to be feminine. You want to look good." 
When shopping, Spiezio has always noticed that retailers care more about the suits being "flattering" than cute. "I felt for a long time that I could only wear these tankinis because they would hide my stomach, but I have a big stomach and that's a part of my body," Spiezio said.  "I don't want to be hiding it." 
That is what has ultimately spelled success for places like Torrid and Swimsuits For All, and what Eloquii is banking on too: a focus on style, not just the fit. 
"We ask ourselves, 'Does she look good, and does she feel sexy?' 'Does she have enough support and control in the right places?'" Alyssa Espinoza, a Torrid swim designer, said in an interview. "If any of these answers are 'No,' then we haven't done our job." 
"We approached it just like we do the clothing...strictly in terms of fashion," Arnold said. "We partnered with a very good swim manufacturer who was able to help us with all of the construction and fit details that come with fitting bra cups and working in a fabrication that we were not used to but just like our clothing our aim was to give this customer the fashion while at the same time giving her fit and quality." 
Despite an awareness of shortcomings from some brands, however, the conversation around progress for plus-size swimsuits seems to lag behind actual action. 
What's stalling more progress? 
The real answer to this question: Retailers and brands are confused. Much like the case of plus-size clothing in general, plus-size women have been largely ignored by retailers, brushed off like they're not the highest priority despite a $20-billion plus-size industry. And that's largely because of both ignorance and the stereotype that plus-size women don't care about how they look. 
"This plus-size customer has always been underserved when it comes to wearing age-appropriate clothing that is cool, trendy and fits well," Campbell Smith, a Torrid swim buyer, said. "No one has taken care of her until now. The stereotype is that she doesn't care how she looks, so why give her trendy clothing?"
On top of that too, making a swimsuit is admittedly very, very difficult. Therefore, you have to have ample resources to get it right. 
"Swim especially is hard from a technical and construction perspective," Arnold said. "So even if they are starting to get into plus for clothing it may take a little longer for people to tackle the technical issues of plus-size swimwear."
But according to Torrid's own swimwear designer, designing a swimsuit in a size 0 or 2 really isn't vastly different from designing a swimsuit for a size 20 and above. 
"The concept is the same, but there are slight differences," Espinoza said. "Not every style will translate to a plus-size style, and we have to design with that in mind. Sometimes we add components like power mesh or adjust how the bust fits to ensure that she is properly supported. Our end goal is to develop a swimsuit that makes her feel confident and secure while still flaunting her curves."
What needs to change? 
In terms of the future of plus-size swimwear, things are actually looking up. 
For one, women are beginning to speak out, like Aliss Bonython — which is a shrewd tactic especially in the age of social media and viral outrage forcing brands to bend (see: #GrabYourWallet's success) when called out. So now we have several brands serving plus-size women. Plus we have women like Gabi Gregg and Ashley Graham, both of whom are plus sized, stepping up to help give plus-size women more options, and designing swimsuits that address the problems they've probably experienced themselves. 
But what also seems to be necessary, according to Spiezio, is a larger conversation about the dreaded "beach body," and the idea that to be worthy of being on a beach, you have to look a certain way. 
"I think we need to continue to look at plus-size bodies as worthy," Spiezio said. "I think the idea of beach bodies is super-harmful for everyone, most especially plus-size women. Plus-size women need to feel that they are already in a place to wear a bathing suit no matter what their body looks like and they deserve to have a really beautiful."
Once everyone realizes that, plus size or not, then it'll be easier to promote this idea that plus-size women not only want — but deserve — a quality, cute swimsuit like everyone else.