Ivanka Trump's neighbor — with her fur coat and wine glass — is now a style icon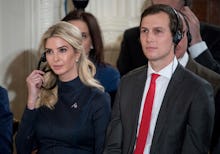 Move over, Ken Bone. The current political climate has gifted us an unlikely style icon once more. This time, it comes in the form of a woman named Dianne Bruce, who happened to be photographed smiling broadly while watching hundreds of LGBTQ climate activists protest her neighbors, Ivanka Trump and Jared Kushner, by holding a dance party outside of their home. 
Rather than wearing something as standard as a robe while standing on the front steps of her house though, Bruce took this protest as an opportunity to personify glamour, wearing a large fur coat and holding a wine glass (full of white wine, it looks like) in her hand. 
Girl was excited and she wanted you to know it. 
Soon after images of Bruce looking downright gleeful while watching people protest her neighbor (who wouldn't?) passed around the internet, Twitter deemed her a style icon. 
Because really, that coat? That wine glass? That smile? 
Instantly iconic. 
Judging by the look on her face, it looks like she's watching a display of fireworks or a parade. But no, she's watching protesters party outside of her neighbor's house. 
How relatable, you know? 
Just like that, a style icon was born. But as with any style icon, we think it's only right that we help Bruce's fans recreate her look. 
After all, who wouldn't want to resemble a woman smiling as LGBTQ protesters dance in front of the Kushner house? Who wouldn't want to strive to be as iconic as Dianne Bruce? 
So, here's how to get the look for less: 
The fur coat: 
If you're looking for a real fur coat, this one is almost an exact match. 
But if you're looking for a cheaper one, there's this great one for $51 over at ASOS. 
That wine glass: 
Let's just be real here, and go for this $1.99 one at IKEA. 
You can thank us later. 
Halloween 2017 has its first must-have costume.