'Persona 5' School Quiz: Answers to classroom questions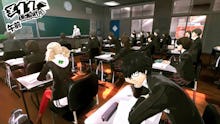 Persona 5 is only kind of representative of the typical high school experience — but not all of us had a super-powered group of friends to go around and fight demons with. 
The most realistic thing? Answering questions in class. It's not a fun mini game or a battle; it is, in fact, a series of questions. That's it. If you get the answers right, you'll get some stat increases — so it's important to be knowledgeable. 
If you're looking to get that A+ by any means necessary, why don't you copy our notes?
Persona 5 school quiz: A cheat sheet
If you're looking for that easy A, we have some answers for you. Eurogamer has put together a handy-dandy list together, but here are the first handful to get you through the first in-game month:
April 12th:
Eurogamer is updating their list as they play through the game. Make sure to check back so you don't fail your class!
More Persona 5 news, updates, tips and tricks
For more on the latest entry in the Persona series, check out the rest of what Mic has to offer. Here's a guide to building relationships with the game's Confidant system, and a guide to when and how you can name your main character.