'Real Housewives of New York City' Season 9: 5 storylines we want to see happen on screen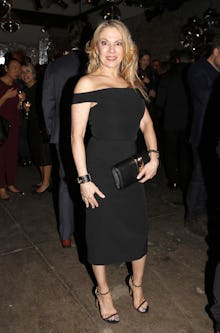 The Real Housewives of New York City are back for a ninth season and it looks like we're in for another wild ride. 
Over the show's eight seasons, RHONY has been a vessel for some of the most memorable Real Housewives moments to ever air. This season, all of your favorite women of New York have returned: Bethenny Frankel, Luann D'Agostino, Ramona Singer, Sonja Morgan, Dorinda Medley and Carole Radziwill. Plus, there is a new Housewife joining the crew: Tinsley Mortimer. 
Coming off of a tumultuous season eight, the women have a lot to catch up on. Luann got married to Tom D'Agostino, Sonja starred in an off-broadway play and Bethenny's divorce was finalized. 
On this season of RHONY, we'd like to see the women come together again, get over Tom and try to welcome the newest Housewife with open arms. These are the 5 things we'd like to see happen on this season of the Real Housewives of New York City. 
1. Luann and Bethenny mend their relationship
It was a rough season last year for Luann and Bethenny. 
There were moments of slut-shaming, there was name-calling and there were accusations of people's hair looking a lot like other people's hair. Their rocky friendship came to a stop after Bethenny received a text that Tom had cheated on Luann — she didn't take the news well. 
This season, we'd like to see the two put this in the past. While their fight at Dorinda's Berkshires home was an incredible moment from last season, it's time to put Tom behind all of us. If they can work beyond this and get back to a solid place, we would like to see the former Countess and the Skinnygirl have some fun again. 
2. Luann and Carole mend their relationship, too
Before Bethenny joined the show, Carole and Luann had a very friendly relationship. 
Everything went south when Carole began to date Luann's personal chef Adam Kenworthy. The problem was that Adam had dated Luann's niece and she took issue with that. She also called Carole a pedophile, as Adam is much younger than Carole. 
Carole and Bethenny have become the best of friends since Bethenny returned to the series. The Luann and Carole drama has gone on for several seasons and it's time to finally bury the hatchet. 
3. The single Ramona
Ever since divorcing her husband Mario Singer, she's become a different person. Not only has she been less venomous than usual, we've got to see a single Ramona. She's dating, she's enjoying the company of men and she's having fun. 
Last season, Ramona was continuing to deal with her divorce. Mario had cheated on her and it was still something she was continuing to process. This season, with the affair and the divorce behind them, we want to see Ramona continue to live her best life. 
4. Tinsley actually sticks around
One of RHONY's problems is that it has had too many Housewives come and go. Many have come and gone without much impact or memorability. Well, except for Aviva Drescher, of course. We're hoping that Tinsley comes out of the gates swinging. The women of New York City are a hard group to impress and mesh easily with, but we think she can bring the drama. 
5. Bring back Heather Thomson
While many fans are excited for the brief return of former Real Housewife Jill Zarin, we want Heather Thomson back full-time. We'll even settle for her being a part-time Housewife. 
In the trailer for season nine, we get a brief glimpse of Heather. It looks like she joins the women for just a moment this season but we'll take it. Heather was on RHONY for three seasons and she was a great addition to the show. She's funny, sharp and one of the few that could go head-to-head with Bethenny. If she dropped the "holla!" from her tagline, she's more than welcomed to return.
The Real Housewives of New York City premieres on Bravo on Wednesday at 9:00 p.m. Eastern.  
Mic has ongoing Real Housewives coverage. Please follow our main Real Housewives hub here.