How Kendrick Lamar charted his path from 'To Pimp a Butterfly' to 'Part IV'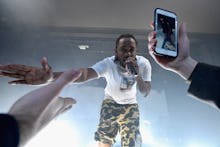 Kendrick Lamar never asked for the mantle of hip-hop savior. The dedication, dexterity and experimentation present in his early hits — like "Vanity Slaves," "The Heart Pt. 2" and "Rigamortis" — spoke for him. 
As far back as 2009, a significant faction of hip-hop heads have seen in Lamar a talent fit to usher in a new golden age. His last two projects, To Pimp a Butterfly and Untitled Unmastered, presented sketches of a man attempting to come to terms with the weight of that hero status. "Geez Louise, I thought you said that I excel," Lamar rapped on Untitled's opening track. "I made To Pimp a Butterfly for you/ Told me to use my vocals to save mankind for you ... Who love you like I love you?" 
Now, with "Part IV," as he refers to his forthcoming fourth studio album, he seems to be approaching it with a radically different attitude. If the world wants to name Kendrick Lamar hip-hop's savior then the game is going to have to sit down, be humble and learn to play by his rules. The first tastes he's offered show him backing off the dark, jazz-inflected soul of To Pimp a Butterfly, back towards rap's more standard beats and boards fare. Lamar's sound is seemingly designed to attract even more ears to his revolution and will provide fans with a precise snapshot of his unique talents.
From "The Heart, Pt. 3" to Part 4
The previous iteration of "The Heart, Pt. 3," recorded three days before Lamar's major label debut, Good Kid, M.A.A.D City, depicted an MC struggling to stand out and live up to his status as "Pac reincarnated." 
"I need to separate myself to stand out," he rapped. "I need a better way to take your fans now." Cue the epic mythology of GKMC, almost immediately hailed as a classic, topped three years later by the inscrutable, black music melting pot of To Pimp a Butterfly. 
Part four, Kendrick's first single of his latest era, picks up where part three's searching left off — said fans have been taken, his "future favors/ The legendary status of a hip-hop rhyme savior." He's now extending his hand to the rest of rap, like any beneficent savior would.
Both "The Heart, Pt. 4" and "Humble," put hip-hop on blast — something that no other rapper can do quite as effectively as Lamar. The shots are less direct than those on his 2013 verse on Big Sean's "Control" — a verse many rap pundits have argued changed hip-hop forever — where he called out all the biggest players in the game by name ("Jermaine Cole, Big K.R.I.T., Wale/ Pusha T, Meek Millz, A$AP Rocky, Drake/ Big Sean, Jay Electron', Tyler, Mac Miller") and told each he was "tryna make sure your core fans never heard of you." 
To this day, Big Sean still insists Kendrick's verse wasn't all that, and watching the Compton MC take all his shine was likely the impetus for Sean to launch his long campaign of subliminals against Lamar. Many of theorized Big Sean and that betrayal are the main targets of many of the veiled barbs on both Lamar's latest tracks.
While the potshots aren't as direct as those Lamar has made in the past, they're potent in a more conceptual, subtle way. Lamar has spent much of the past year making his rounds throughout mainstream hip-hop, guesting on tracks by some of rap's biggest pop stars. 
He's seen how rappers Travis Scott, DJ Khaled, Mac Miller, Kanye West and Ty Dolla Sign are working. Obviously, he approves of their methods enough to allow his name to be included on their projects, but as we've seen before, Lamar's friends are not exempt from his demands for quality. "This shit way too crazy," Lamar raps of his own bars on "Humble." The rest? "You do not amaze me, ayy."
From Robert Glasper to Mike Will-Made-It
In an unexpected move, Lamar has taken steps towards democratizing his sound, so to speak, turning away from the high concept jazz of To Pimp a Butterfly to level the playing field between him and the rest of hip-hop. His surgically precise bars on "Humble" juke over a beat by Mike Will-Made-It, one of hip-hop's most popular and ubiquitous producers. 
It's a beat any rapper could have theoretically gotten their hands on — if they saw its potential — and honestly its ham-fisted piano may not have worked under the flows of a less imaginative MC. It's far from the one-of-kind, Frankenstein jazz fusion that can only come from hours of studio time and a deep Rolodex that put Kendrick in a league of his own. 
"It's not like the jazzy tape you would think, it's like... fucking Memphis... it's LA," producer Syk Sense said of the beats he'd heard Lamar was considering for the upcoming album. He's suiting up to shoot from the same free throw line as all of hip-hop, as a means to measure his skills far more directly with his rivals.
All we have of the album are rumored tracklists and leaks. If they hold true, the album will cover far more ground than Memphis and Los Angeles. It's feels like Lamar has it in mind to hit every corner of hip-hop's home soil, to show every scene how it's done. In the past year he's proved he can rap over just about anything — pop, nu-jazz, soul — and make it work. It's another aspect of the thorough data collection mission and rigorous training regimen Lamar has had himself on for the past two years. Honestly, he's set the bar so high in that time, he's competing with no one but himself.
More Kendrick Lamar news and updates
Mic has ongoing coverage of Kendrick Lamar's rise. Check out our review of his previous To Pimp a Butterfly and a breakdown of the structuralist and culturalist theories of racism that clash at the album's heart. Read up on the story of his rise from Compton local favorite to king of the west coast, alongside a list of his best guest verses, a breakdown of the lyrics to "The Heart, Pt. 4" and "Humble" and an investigation of how "Alright" became a go-to protest anthem.