Xbox Project Scorpio Release Date 2017: New console reveal set for Thursday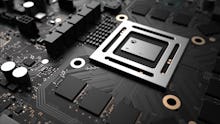 On Monday, we heard rumblings about some games we might see used to showcase Project Scorpio, Microsoft's charged up new Xbox, before its release in time for the holiday season. The only question remaining was when Microsoft would actually let us see Scorpio.
Thanks to Eurogamer's tech-enthusiast sister publication, Digital Foundry, we have an answer.
Xbox Project Scorpio reveal set for Thursday
Digital Foundry typically offers high level performance analysis of video games and the machines we use to play them. If you want to know how the Nintendo Switch version of a game stacks up against the PlayStation 4 version, that's where you go. They also blew the lid off the Switch (then called the NX) in 2016, months ahead of the official reveal.
It sounds like this reveal is sanctioned by Microsoft rather than a leak. Why would Microsoft go through Digital Foundry to reveal their new console rather than host an event of their own? Well, Scorpio is supposed to be a premium console, on the level of PS4 Pro but maybe even more powerful. If Microsoft wants to appeal to people who really care about processing speeds and teraflops and whatnot, Digital Foundry is a good place to do it.
We don't know how comprehensive this reveal will be, but we'll probably learn the console's official name and get some specs. Then again, maybe this will be a full Microsoft event ahead of E3 with new game reveals. We'll find out when you do on Thursday.
More gaming news and updates
Check out the latest from Mic, including our deep dive into how female Overwatch players are dealing with online harassment, an article about a fan movement advocating for more same-sex romance options in Mass Effect, a cool making-of video for Legend of Zelda: Breath of the Wild and an article about what a Bechdel test for gaming might look like.