Exclusive: An all-vegetarian Pret a Manger pop-up is coming to NYC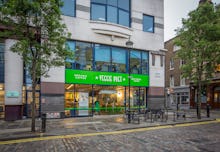 In June 2016, Pret a Manger did something unprecedented in London: Opened an all-vegetarian, completely meat-free version of its fast casual chain restaurant. 
While kosher McDonald's may be a destination in Israel and India's meatless McDonald's made headlines when it opened in 2014, Pret is the first fresh-focused restaurant to scrap meat from its menu. The idea for a Veggie Pret came after the company saw the drastic increase in vegetable and vegetarian sales in the U.K.
Denoted by a spring green Pret sign rather than the brand's traditional maroon logo, Veggie Pret drew clusters of veggie lovers to London's Soho neighborhood, turning the slated one-month pop-up into a permanent neighborhood fixture. 
And in March 2017, Pret a Manger CEO Clive Schlee announced that a second Veggie Pret would be joining the London original, this time in the neighborhood of Shoreditch. 
Veggie Pret is coming to America — but there's a catch
Veg heads in New York City should stay on their side of the pond, as an all-veggie Pret is launching on Saturday, April 22, according to an exclusive interview with a Pret representative. The only catch: It's a one-day pop-up. Starting at 12:30 p.m., the first 200 people in line at Pret a Manger's 400 Park Avenue location will be treated to a vegetarian sandwich or salad, a side and a drink, all to celebrate Pret's new veggie-centric menu launching nationwide, which will introduce 20 new vegetarian recipes to 76 shops across the country
A permanent veggie Pret, however, is still in the realm of possibility for the U.S. A spokesperson for the company told Mic that the brand takes customer feedback seriously, and if interest is voiced for an American Veggie Pret, it can totally happen. Feedback on the new menu will also influence what new dishes stay on the menu past their spring launch. 
New menu items include a vegan miso sweet potato banh mi, a vegan chakalaka wrap, inspired by traditional South African spiced bean and tomato relish, as well as several other pots, sandwiches and salads, all made with fresh veggies. 
Attendees of New York's pop-up Veggie Pret, as well as tasters of the new menu, are encouraged to leave "Love it or Leave it?" feedback on social media using #NotJustForVeggies. Of course, you can also write customer feedback to Pret strongly encouraging the brand to open a more permanent Veggie Pret. 
Come on people, let's make it happen.