Royal Caribbean's Instagram contest is looking for the "World's Most Adventurous Squad"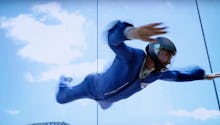 You may know you have the greatest, most Instaworthy adventures rolling with your squad, but now you have the chance to actually prove it — and win a trip in the process. 
On March 29, Royal Caribbean launched the #AdventureSquad challenge, a social media contest that (#no)filters for the "World's Most Adventurous Squad" and gives contestants the chance to travel anywhere the cruise line sails to. 
Every 72 hours until April 12, contest host and social media travel personality Tyson Mayr will announce one of five travel-based themes, such as "Epic Eats" or "Air, Land & Sea," on the cruise line's @RoyalCaribbean Instagram handle. Players need to upload their most captivating thematic visual, tag three squad members and @RoyalCaribbean, and use the hashtags #AdventureSquad and #Contest before the next theme starts. 
The five theme winners will be announced in May before going head-to-head as finalists to create the most bucket-list-busting content while setting sail on the cruise line's Harmony of the Seas, which stops in Jamaica, Mexico and Haiti. 
The crowned squad gets to go on any three Royal Caribbean cruises of their choosing, a spot on a digital billboard in New York City and probably a healthy boost in Instagram followers.