Who is Carter Page? How a New York City consultant became "Male-1" for Russian spies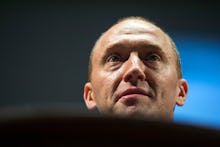 Carter Page, a foreign policy adviser to Donald Trump's presidential campaign, was targeted for recruitment by Russian spies in 2013, it was confirmed Monday.
It was the latest — and, so far, the most clearly documented — connection between a Trump associate and the Russian government. 
In 2015, three Russian intelligence operatives working in the U.S. were charged with espionage crimes. Two fled to Russia and were charged in absentia; the other, who used his position at the Manhattan office of a Russian bank as his cover, pleaded guilty to conspiring to act as a foreign agent and was sentenced to 30 months in prison.
A person identified as "Male-1" in a court filing for the case was promised business opportunities in Russia in exchange for favors, according to multiple reports. 
On Monday, Page denied working with Russia to undermine the U.S. electoral process, saying that he only "shared basic immaterial information and publicly available research documents," but confirmed to BuzzFeed News that he was "Male-1."
What was Page's relationship to the Trump campaign?
Trump listed Page as one of his campaign's foreign policy advisers during an interview with the Washington Post editorial board in March 2016.
Page — an investment banker and oil industry consultant with deep ties to Russia — claimed soon after that conventional wisdom painting Russian leaders as "all crooks and bad guys" was wrong. Page said that his links to Russian companies would allow him to give Trump a better perspective on foreign relations than "people from afar, sitting in the comfort of their think tanks in Washington," according to Bloomberg.
But months later, the self-described adviser to Trump on Russia and energy matters — who was virtually unknown in foreign policy circles — became the subject of a U.S. intelligence probe over his possible private communications with senior Russian officials, including potential discussions about the U.S. lifting sanctions against the country if Trump was elected. 
Page dismissed accusations he had questionable Russian ties as "just garbage." He told the Post that he was taking a "leave of absence" from the Trump campaign during the controversy, and the campaign later denied that Page had ever worked for it. 
Page maintained that he had not met with Russian officials in 2016 until March, when he told MSNBC's Chris Hayes that he "[does] not deny" having met with Russian Ambassador to the United States Sergey Kislyak in Cleveland in July.
Who is Page, and is he even a foreign policy expert?
In 2016, reporting by journalist Julia Ioffe published by Politico revealed "neither Russia experts nor energy experts nor Russian energy experts" knew of Page. 
He appeared to have embellished his role in massive Russian energy deals, Ioffe reported, and he "did not create the impression of someone who was intellectual or well-educated, or someone who was in any way interested or knowledgeable in foreign policy."
His writings on foreign policy include a piece that references Kanye West and the 1998 Adam Sandler comedy, The Waterboy.
"Russia, Iran, China and a range of emerging powers have suffered from the same kind of condescending mistreatment that football team bullies once delivered to Boucher," Page wrote, referencing the character Sandler plays in the film, "and have begun to respond in kind."
"He's a nice guy, but of the people that I know that have Russian foreign policy experience or access and contacts, he wouldn't be in the last decile, but he'd be in the second-to-last decile," an American executive with experience in Russia's energy sector told Ioffe after Page was named a Trump adviser. "You'd have to dip really far and wide to find a guy like Carter Page. I mean, wow."
How did Page become Russia's "Male-1?"
Page purports to have a number of business ties in Russia, including three years spent at the Moscow branch of Merrill Lynch, which he opened in 2004, and investments and consulting work for Gazprom, a state-owned Russian energy company.
In an interview with Bloomberg after Trump named him an adviser, Page said business contacts had reached out to him with "excitement" over the possibility of warming relations between Russia and the U.S.
"So many people who I know and have worked with have been so adversely affected by the sanctions policy," Page said. "There's a lot of excitement in terms of the possibilities for creating a better situation."
It was in line with his long history of expressing warmth toward Russia, including telling foreign policy experts in June that Putin was a stronger leader than former President Barack Obama and suggesting Trump would improve relations between the two governments, the Washington Post reported. 
According to BuzzFeed, Page met Russian spy Victor Podobnyy, who was working at Russia's United Nations office in New York City, at an energy conference in January 2013 and exchanged emails with him for six months after.
Page told the outlet he did not share any sensitive documents, but a transcript of Podobnyy speaking with another Russian operative, Igor Sporyshev, shows the Russian spies discussing promising Page — whom Podobnyy describes as an "idiot" — "a favor for a favor."
"[Male-1] wrote that he is sorry, he went to Moscow and forgot to check his inbox, but he wants to meet when he gets back," Podobnyy said, according to the transcript. "I think he is an idiot and forgot who I am. ... He got hooked on Gazprom thinking that if they have a project, he could rise up.
"I also promised him a lot. ... This is intelligence method to cheat, how else to work with foreigners? You promise a favor for a favor. You get the documents from him and tell him to go fuck himself."
In 2015, Podobnyy and Sporyshev were charged in absentia as part of a Russian spy ring. Another spy, Evgeny Buryakov, pleaded guilty to a charge of conspiring to act as a foreign agent and was sentenced to 30 months in prison; he had been using his position at the Manhattan office of VEB Bank as cover for espionage.
The FBI interviewed Page — who was also named in the explosive dossier on Trump's Russia ties compiled by former MI6 agent Christopher Steele — in the investigation into the Russian spy ring, and the former Trump adviser told BuzzFeed that the filing had made it obvious he was "Male-1."
The new revelations about Page come as Trump tries to shake off scrutiny over his campaign's potential ties to the Russian government, dismissing questions as a narrative pushed by the "fake news."
But it's not just the media: Trump is currently under FBI investigation, while more and more people in Trump's orbit are being found to have Russian ties. 
Page last week offered to testify before the Senate Intelligence Committee in their investigation into Trump.