Why Donna Lynne Champlin should get an Emmy for 'Crazy Ex-Girlfriend'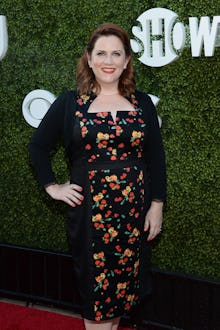 She may have sung a sendup of "Rose's Turn" in the season one finale of Crazy Ex-Girlfriend, but it's season two that should cement it as Donna's turn. By Donna, we mean Donna Lynne Champlin, an actress who has defied convention and smashed stereotypes while playing Paula Proctor in the musical TV show on the CW. GoldDerby reported that Champlin will be submitted for consideration for a best supporting actress Emmy nomination, and we think it's about time the veteran actress get her first major TV award.  
Champlin, who has acted onstage in James Joyce's The Dead, Sweeney Todd, Billy Elliot and The Taming of the Shrew, among other productions, also made appearances in Law and Order, The Good Wife and Younger. Playing Paula on Crazy Ex-Girlfriend has propelled her into a major spotlight — and hopefully an upcoming award or two. Below are five reasons we think Champlin should win an Emmy.  
She never falls into the "fat best friend" trope 
Paula is the best friend of the show's protagonist, Rebecca, and Champlin is a size 14 — but neither of those things define her character. Instead, Paula is a fully formed person with her own story, and her weight is not a defining, nor even a minor, part of it. Even when she faces struggles in her marriage, she doesn't mention her weight or her husband's. The plot is about their characters, not their BMIs. 
"A theatre person, especially a theatre person who looks like me, is not reflected on TV back to me," Champlin told Bust. "My type is middle-aged woman, not thin. I look like the average American middle-aged woman. The only TV roles I've ever had were for the secretary, the cop, the nurse. The acceptable nonsexual place for a middle-aged woman to be on TV. They would be 1-2 lines and that was it, and never be a series regular. That was unheard of."
She's one of the best singers on the show 
Champlin has sung sexy jazz numbers, 11 o'clock numbers and inspiring gospel anthems on Crazy Ex-Girlfriend, and it seemed like anything was possible from her. But who would have predicted the Broadway veteran would own a heavy metal number, complete with headbanging? She pulled that off without a hitch. 
She depicts the complications of female friendships
Crazy Ex-Girlfriend's second season saw Paula and Rebecca's friendship grow beyond obsessive codependency into a more authentic and honest relationship. Some conflicts came with that growth, including a period of alienation between the joined-at-the-hip buddies depicted in the song "You Go First." Not only does Champlin mimic the '80s power ballad style of singing in this number about the determinedly stubborn impasse between the two friends locked in an argument, she absolutely rocks that hairstyle. 
Her princess musical number is about law school
Instead of singing about love and marriage, Paula's big solo was about going to law school. She didn't sing about romantic embraces — she sang about advancing herself professionally. As she gazed into the possibilities of her future, her office transformed into a fairytale forest and her business-casual outfit changed into a classic princess "before" apparel, complete with peasant sleeves and a corset. Champlin portrayed aching vulnerability, despite the admittedly disgusting lyrics of the song. 
She played abortion as a real and relatable storyline 
After helping to put together her struggling marriage and admitting she wanted more out of her professional life as well, Paula applied to law school. Her dreams felt like they were within a moment's reach — and then she got a positive pregnancy test. At first, the episode seemed to dance around the subject, referring to an abortion as "options" and Paula saying she is too old for such choices. But later in the episode, after receiving some professional encouragement, she changes her mind. It isn't presented as a melodramatic, tear-filled choice. It's simply a decision, and Champlin nails it. At the end of the episode, Paula's doorbell rings and her son shouts, "Mom! I'll get it since you just had an abortion" — to which she replies, "You're a good son."
Mic has ongoing TV coverage. Please follow our main TV hub.