With consent decree reviews, Jeff Sessions launches his assault on civil rights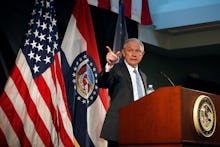 Mic Opinion — Mic invites contributors and staff writers to offer commentary and context about news and timely issues.
Attorney General Jeff Sessions ordered a review Monday of all 14 consent decrees made with police departments under the Obama administration, casting doubt on whether those agreements — which the Justice Department had ordered to accelerate police reform — would survive the Trump era.
"Local control and local accountability are necessary for effective local policing," Sessions wrote in the two-page memo. "It is not the responsibility of the federal government to manage non-federal law enforcement agencies."
None of this is surprising. Sessions has long sought to delegitimize reports that police departments have engaged in rampant civil rights abuses against black residents. At a press conference in February, he dismissed the DOJ's findings about the Chicago police, even though he hadn't read them.
"I have not read those reports, frankly," Sessions said. "We've had summaries of them, and some of it was pretty anecdotal, and not so scientifically based." 
Opponents of Sessions' nomination for attorney general insisted that he is an enemy of black civil rights, citing his history of alleged racist comments and his prosecution of black voting rights advocates. Republicans have countered by trying to rebrand him as a civil rights champion. They've done so by often exaggerating or falsifying his record of leading civil rights litigation, and even circulating photographs of Sessions with civil rights icon and U.S. Rep. John Lewis (D-Ga.) in Selma, Alabama. (in an ironic twist, Lewis would later testify against Sessions' confirmation).
But the truth has been in front of us all along. Observers have been warning Americans about Sessions for decades. The late Coretta Scott King — widow of Dr. Martin Luther King, Jr. — wrote a letter to Congress in 1986 urging them not to confirm Sessions for a federal judgeship, for which then-President Ronald Reagan had nominated him.
"Anyone who has used the power of his office as United States Attorney to intimidate and chill the free exercise of the ballot by citizens should not be elevated to our courts," King wrote. "Mr. Sessions has used the awesome powers of his office in a shabby attempt to intimidate and frighten elderly black voters. For this reprehensible conduct, he should not be rewarded with a federal judgeship."
Law enforcement has been the banner civil rights issue of our time. Ever since the summer of 2014, when a spate of police killings of unarmed black men galvanized Americans to protest, DOJ reports about police departments in Ferguson, Missouri, Baltimore and Chicago have exposed a culture of violently racist conduct. The Obama administration ordered 25 investigations into police departments nationwide between 2009 and 2016 alone. Few subjects have articulated racial inequality in the U.S. more starkly than policing.
If Sessions' order gives American law enforcement a looser leash than it already enjoys — as it is expected to do — then his claim to being a civil rights advocate will be definitively erased. But if that does happen, we'd be remiss to act surprised. This is exactly the kind of thing our forebears have been warning us he'd do. And now, here we are.