Supermodel Bella Hadid, daughter of Palestinian refugee, says she's "proud to be Muslim"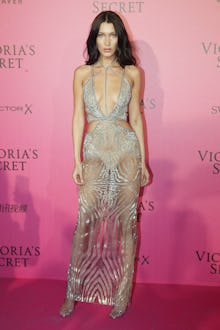 Bella Hadid is arguably one of the most famous supermodels in the world, but in an interview with Porter magazine, the Victoria's Secret angel paid homage to her humble roots as a daughter of a Muslim refugee.
"My dad was a refugee when he first came to America, so it's actually very close to home for my sister and brother and me," Hadid said about President Donald Trump's Muslim ban. 
For Porter's summer issue, Hadid opened up about her mixed-race background and her father's journey to the United States. Hadid and her siblings — sister Gigi Hadid and brother Anwar Hadid — are the children of real estate mogul Mohamed Hadid and reality TV star Yolanda Foster. 
According to Page Six, Mohamed Hadid was born in Nazareth, just days before the 1948 United Nations' Partition Plan for Palestine split the region into Jewish and Arab sectors from the British Mandate for Palestine. After living in Syria and Lebanon, Mohamed immigrated to the United States at just 14 years old and later became a successful real estate entrepreneur. 
Bella Hadid elaborated further on her Muslim background for Porter, noting her father was always religious and prayed with his children. 
"He was always religious, and he always prayed with us," she said. "I am proud to be Muslim." 
Their father's story was a motivating factor in getting Bella Hadid and Gigi Hadid to march the streets of downtown New York to protest Trump's Muslim ban in January. Bella Hadid posted on Instagram an image of a sign that read: "We are all Humans."
In an interview with Elle, Bella Hadid said protesting the travel ban was imperative for her as a mixed-race individual. 
"I come from a really diverse background," she said. "I've had incredible experiences all over the world ... and I've learned that we're all just people, and we all deserve respect and kindness. We shouldn't treat people as if they don't deserve kindness just because of their ethnicities. It's just not right."
Gigi Hadid has made headlines in the past, both for commenting on her pride in being Palestinian and for being featured on the cover of Vogue Arabia wearing a hijab. However, this was Bella Hadid's first time speaking publicly on her Palestinian identity and Muslim faith — and it sends a powerful and inspiring message. 
The timing of Bella Hadid's comments is especially perfect. In a time when anti-Muslim violence and Islamophobia are exponentially rising, Bella Hadid broadens the representation of Muslims in the media, one that doesn't require being "the first hijabi" to make news. She also shatters the outdated stereotype depicting Muslim women as meek, submissive and oppressed. 
And all it took was three sentences.