These are the 10 Trump associates with known ties to Russia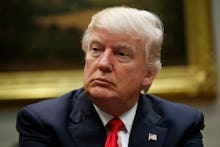 Another day, another Russia revelation. The long shadow cast by Russian President Vladimir Putin over the 2016 election in the U.S. is still being debated and investigated.
But one element is for sure: A whole lot of folks on the Trump team have been connected to Russian interests.
While this doesn't prove collusion between the Trump campaign and Russia, it raises important questions over the confluence of interests between the current U.S. administration and a political adversary.
Carter Page
Page served as a policy adviser for the Trump campaign and was identified by Russian spies for recruitment in 2015. According to ABC News, a sealed FBI complaint shows he was promised business favors for his cooperation. 
Page confirmed that he is the male identified in the complaint and maintains that he's done nothing wrong.
The Trump adviser raised eyebrows when he was alleged to have used a speech he gave at a university in Moscow as a front to meet in secret with Kremlin officials, per the infamous unverified dossier.
Jeff Sessions
The attorney general for the United States met with Russian Ambassador to the United States Sergey Kislyak while working with the Trump campaign. In fact, he did it twice.
Then, Sessions lied about it: "I have been called a surrogate at a time or two in that campaign, and I did not have communications with the Russians."
Remarkably, Sessions maintains that this was not a lie, but simply "honest and correct" as  he "understood it at the time."
He's since recused himself from the investigations into Russian interference with the 2016 election.
Michael Flynn
Officially, Michael Flynn resigned from his role as national security adviser after lying to Vice President Mike Pence regarding his conversation with a Russian ambassador about Obama's sanctions on Russia.
Unofficially, this makes no sense, since the alleged lie to Pence happened weeks before Flynn's ouster.
Either way, it's the Trump administration's story for why they forced him out.
Maybe we'll get the real story — if Flynn finds a take for the immunity he's requested in exchange for a testimony before the U.S. Congress.
Rex Tillerson
Tillerson oversaw the Russian operations of ExxonMobile while he was the organization's CEO.
His work in Russia heralded his ascent in the company and gained him the Order of Friendship award, given to Tillerson personally by Vladimir Putin.
Tillerson is now the U.S. secretary of state.
Erik Prince
The Blackwater founder counts U.S. Secretary of Education Betsy DeVos as his sister and served as an informal adviser to the Trump campaign.
Prince was reportedly used by the United Arab Emirates to create a back channel between Donald Trump and Russia during the Trump transition.
Paul Manafort
Manafort signed a $10-million contract in 2006 with a Russian billionaire. The two men's plan was designed to benefit the interests of Putin's government.
Manafort was Donald Trump's campaign manager.
Jared Kushner
The president's son-in-law met with a Russian bank under U.S. sanctions in 2016. Little is known about the meeting, but Kushner has agreed to testify before a U.S. Senate committee.
Michael Cohen
A lawmaker in Ukraine claims he discussed a deal to end the war in the country with Cohen, Trump's personal lawyer. The deal would have been beneficial to Russian interests.
Cohen says it's flatly untrue.
Roger Stone
The colorful right-wing operative seemed to have foreknowledge about Hillary Clinton campaign chairman John Podesta's stolen emails, which are believed to have been hacked by Russia and disseminated through Wikileaks, with which Stone is associated.
Stone denies any collusion or communication with Russia.
J.D. Gordon
The Trump campaign's national security director was allegedly included in the meeting with Russian Ambassador Sergey Kislyak around the GOP convention, the same event attended by Carter Page and Michael Flynn.