'Mass Effect: Andromeda' Update 1.05 Patch Notes: Bug fixes and "improved facial acting"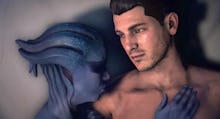 BioWare finally announced its first post-launch patch, called patch 1.05, for Mass Effect: Andromeda — and it's a big one. 
It's mostly a bug fixing, quality-of-life, stability-focused patch, but in a blog post that accompanied those patch notes, BioWare promises to address some bigger issues with game overall, including "male romance options for Scott Ryder" and its lackluster character creator.
Patch 1.05 will begin roll out on April 6. The full patch notes are embedded below — and yes, the patch will include some improvements for its wacky facial animations.
Mass Effect: Andromeda 1.05 Patch Notes
Here are the full patch notes from BioWare's website. More detailed notes are on the way that will delve into the specifics of the balance changes.
Patch 1.05 Notes
In the blog post accompanying the patch notes, BioWare also noted that the following changes are coming in patch 1.05 as well.
This Thursday, we'll release a new patch that addresses technical fixes (crashes, improved performance), but also adds a number of improvements we've heard you ask for, such as:
BioWare teases future patches that will address the fandom's complaints
Once patch 1.05 is out of the way, BioWare promised more updates in the future that will address bigger, more ambitious problems the fandom has with Mass Effect: Andromeda, like its lackluster character creator and relatively slim same-sex romance options for Scott Ryder.
Here's what's on the way in the next two months, according to BioWare: 
Over the next two months we'll be rolling out additional patches which will go even deeper and look to improve several areas of the game:
As more information about updates to Mass Effect: Andromeda becomes available, we'll let you know.
More Mass Effect: Andromeda news and updates
For more on everyone's favorite space opera, check out the rest of what Mic has to offer. Here's an essay on the troubling history of colonialism in Mass Effect, a story about the horrifying harassment campaign carried out against a former BioWare employee, a look at the #MakeJaalBi fan movement and an overview of the historic lack of gay romance options in Mass Effect.