'Smash Bros. 4' Nintendo Switch Release Date: Game's creators helped design the Switch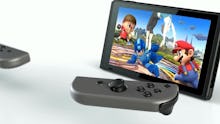 Super Smash Bros. 4 on the Nintendo Switch remains unannounced, but not unconfirmed. It's a no-brainer for Nintendo to bring its most popular fighting game to the new console, yet we have no idea when we can expect Smash Bros. 4 for Switch. There is one thing that gives us hope: Hal Laboratory, which develops the Smash Bros. games, had a hand in crafting the Nintendo Switch.
Super Smash Bros. 4 Nintendo Switch release date: HAL Laboratory helped create aspects of the new console
Hal Laboratory is known less for its hardware contributions and more for games like Kirby, Earthbound and Super Smash Bros. But in the case of the Switch, the developer studio lent Nintendo a hand in creating a few core components. According to Hal, via Nintendo Everything, the studio built the Mii library, game development environments and the development tools associated with the system. 
Even though the Switch has been criticized for its lack of web browser, Hal Laboratory worked on the web browser component of the Switch, too. You can't quite visit your favorite sites just yet, but you can use it to connect your Switch to a Nintendo account, browse the eShop and log into Wi-Fi hotspots that require it. 
Super Smash Bros. 4 Nintendo Switch release date: What this means for Smash Bros on Switch?
If the folks who make Smash Bros. had a hand in creating the Nintendo Switch, what does that mean for bringing our favorite brawler to the new console? 
Few people have those details, but one would assume if Hal Laboratory helped make the Switch, they'd be interested in bringing one of its best games to the device. Not only that, they may be able to utilize aspects of the Switch that other game developers simply may not know about. You know, all that great web browser functionality missing from games nowadays. 
Regardless of whether or not Hal Laboratory's assistance in crafting the Switch has an effect on Super Smash Bros. arrival on the system, the game is confirmed and (judging by other ports like Mario Kart 8) will almost assuredly have the same level of polish as its Wii U counterpart. Not to mention a kick-ass web browser mode.
Check out more Nintendo Switch news and coverage
Looking for more Nintendo Switch news? Check out how blind gamers are using the Nintendo Switch. Nintendo's left Joy-Con issue turns out to be a hardware problem — find out how to solve it. Find out how to buy a console amidst the recent restock. Learn why the Switch cartridges taste so bad. Check out our comparison photos sizing up the Switch to the Wii U GamePad (part one and part two), or find out how to make use of ethernet without the dock and the best way to get alerts when new stock arrives.