Trump-Russia news you might've missed: Susan Rice fires back over leaking allegations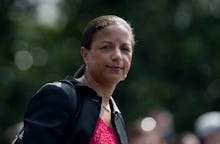 Today's Trump-Russia news finds Republicans attempting to pin the blame for Trump's favorite bogus claims on their favorite Obama-era villain, Susan Rice. Now she's fighting back. And a Trump campaign national security adviser just admitted to being duped into providing intelligence to Russian spies in 2013. Let's dive in!
Susan Rice: "I leaked nothing to nobody"
Former Obama administration National Security Adviser Susan Rice has been taking heat from conservatives after Bloomberg reported that she had requested the redacted names of U.S. persons be revealed, or "unmasked," in intelligence reports on Russia. Republicans seized on the Bloomberg story as evidence of an Obama administration conspiracy against the incoming Trump administration in November.
But Rice shot down those claims in an interview with NBC on Tuesday, saying that she had merely been doing her job as national security adviser and denying that she had leaked the names of any Trump officials. "I leaked nothing to nobody," Rice told NBC's Andrea Mitchell.
While Rice did not go into detail about the nature of the intelligence reports that she had requested information about, she did offer a telling hypothetical:
Let's say there was a conversation between two foreigners about a conversation they were having with an American who was proposing to sell to them high tech bomb-making equipment. Now, if that came to me as national security adviser, it would matter enormously — is this some kook sitting in his living room communicating via the internet offering to sell something he doesn't have or is this a serious person, company or entity with the ability to provide that technology?
Rice clearly was not trying to insinuate that anyone from the Trump campaign or transition team was trying to sell bomb-making material to foreign adversaries. But it's notable that in her hypothetical, the U.S. person whose name is being unmasked is not one of the two people participating in the conversation but rather someone who is being talked about. 
Ever since Rep. Devin Nunes (R-Calif.) first gave his bizarre press conference about the intelligence community inappropriately unmasking the names of Trump officials in their foreign intelligence gathering, it hasn't been clear whether Nunes was accusing the intelligence community of surveilling Trump officials or just revealing the names of Trump officials that came up in their surveillance. 
Rice's interview seems to imply that it was the latter, that is, that the names of Trump officials or Trump himself were being revealed in conversations between foreigners. 
Trump's adviser got duped by a Russian spy in 2013
Speaking of unmasking names, BuzzFeed News reporter Ali Watkins just released an incredible story: Former Trump campaign adviser Carter Page had previously been a source of intelligence for a Russian spy operating in the United States. 
In a criminal complaint against Igor Sporyshev, an undercover Russian spy who was found out by the FBI, Page is referred to several times by the code name "Male-1." The filing describes Male-1 as an unwitting American who passed documents along to the spy without realizing he was communicating with Russian intelligence. Page confirmed to Buzzfeed that he is, in fact, "Male-1."
At one point, Sporyshev describes his interactions with Page by calling him "an idiot."
"[Male-1] wrote that he is sorry, he went to Moscow and forgot to check his inbox, but he wants to meet when he gets back. I think he is an idiot and forgot who I am," said Sporyshev in a correspondence released in court. "He got hooked on Gazprom thinking that if they have a project, he could rise up. I also promised him a lot ... This is intelligence method to cheat, how else to work with foreigners? You promise a favor for a favor. You get the documents from him and tell him to go fuck himself."
In an odd statement, Page responded to the Buzzfeed story by saying that the Obama Justice Department had made his name easily identifiable as part of a political vendetta.
"Throughout 2014, I wrote multiple academic articles on the foreign policy failures of the Obama administration as exhibited most vividly in the botched 'Reset' with Russia," Page said. "When this case was announced in January 2015 by Attorney General [Eric] Holder during the final months of his term, the political vendetta tactics seen here also represented a clear retribution for my public positions of dissent."
It seems unlikely that the Justice Department, in the course of prosecuting a foreign spy for espionage, would take the time to try and intentionally embarrass someone who few people had heard of at the time.
How did that Russian spy put it?