Donald Trump gets booed at Building Trades Union conference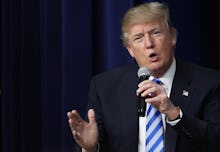 President Donald Trump was met with boos Tuesday during a speech at the North America's Building Trades Unions National Legislative Conference in Washington, D.C.
A group of protesters in the crowd stood up and held signs that said "resist" — a motto of the anti-Trump movement — before they were escorted from the room, according to a tweet by the Washington Post's Abby D. Phillip.
After the disruption, Trump went on to praise the NABTU, and promise that "the era of economic surrender has come to an end."
He said he was cracking down on undocumented immigrants and was working to better trade deals in order to help NABTU workers — lines met by applause from the crowd.
"I'm not, and I don't want to be, the president of the world," Trump said, adding that he's the "president of the United States and from now on it's America first."