The Trump administration is weighing some "extreme vetting" tactics for foreign travelers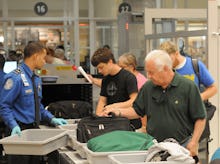 Ever since multiple U.S. courts struck down President Donald Trump's travel ban as unconstitutional, it appears that the administration doesn't see this as a deterrent so much as a challenge or a dare.
According to the Wall Street Journal, Trump administration officials are working on an "extreme vetting" process at U.S. airports that would require visitors to hand over their cell phones for perusing, as well as answer questions about their personal ideology and intentions.
This isn't just an initiative meant for countries targeted by the ban, but people coming in from allied countries as well — France, Germany, Canada, whoever isn't a citizen of the United States.
Searching someone's cell phone is unlike searching their bag. With access to social media, emails, search histories, contact information and messaging histories, you can determine some of the most sensitive, private information about a person, their beliefs and their relationships.
This is why it's illegal for police to search through your phone without a warrant.
At this point, Trump supporters trot out the idea that immigrants don't have rights. But the U.S. doesn't just toss the Constitution when it comes to foreigners. It may not let non-citizens vote or own guns, but a cornucopia of Supreme Court rulings throughout history — Almeida-Sanchez v. United States (1973), Plyler v. Doe (1982), Zadvydas v. Davis (2001) — firmly establish that immigrants, documented or not, are protected under many Constitutional amendments, including the 4th Amendment, which protects against unreasonable search and seizure. 
Still, only some states currently afford this protection to immigrants.
Trump's election has already emboldened Customs and Border Patrol officials to begin stepping beyond their own ethical boundaries. After Muhammad Ali Jr., son of the legendary boxer, was detained and interrogated about his name and religion before boarding a flight, he testified before Congress about his experience of religious profiling. And then, on his way home, he was detained and questioned again.
Aside from pertinent details about someone entering the United States, the extreme vetting guidelines ask border officials to determine what's in a person's heart, both with intrusive access to cell phones as well as probing questions about, as per the WSJ's example: "whether they value the 'sanctity of human life.'"
It's unclear what, if anything, can be kept private at the United States border.
"We want to say for instance, 'What sites do you visit? And give us your passwords,'" Secretary of Homeland Security John Kelly told Congress at a hearing in February. "If they don't want to give us that information then they don't come. ... We want to get on their social media with passwords. What do you do? What do you say? If they don't want to cooperate, then they don't come in."