Will Netflix renew '13 Reasons Why' for a second season?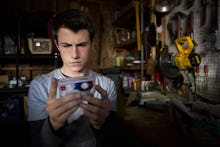 On March 31, Netflix released the entire first season of 13 Reasons Why, a Selena Gomez-produced series based on the bestselling novel of the same name by Jay Asher. And since it has been less than a week since 13 Reasons Why premiered on Netflix, now seems like as good as time as any to start discussing whether there is going to be a second season. 
The emotional and, at times, dark, new Netflix drama follows Clay Jensen, played by Goosebump's Dylan Minnette, after he receives a set of audio cassettes that chronicle the 13 reasons why his classmate Hannah, played by Katherine Langford, committed suicide. The series has earned near universal critical acclaim, so it is not surprising that some are already beginning to wonder whether there is more story to tell. 
In a recent interview with The Hollywood Reporter, both Langford and Gomez seemed to indicate that the door has been left open for future seasons. "We don't know what is going to go beyond it, but we know there are so many stories that lie beneath each character," Gomez explained. "That's why it became a series in the first place. So we'll see."
While not confirming any plans for subsequent seasons, Langford agreed that there is room for more. "There's definitely more story to tell," the actress said. "It would be cool to continue the dialogue of this story. There are so many cliffhangers at the end of the season."
While the series did cover much of Asher's source material (Vulture does a good rundown), the ending does set the stage for more stories. And should 13 Reasons Why be renewed, it would not be the first time a series that largely depleted its source material was renewed for subsequent seasons. 
Recent series like HBO's The Leftovers and Amazon's The Man in the High Castle, each continued past season one, despite covering most of what happened in their respective books. As for 13 Reasons Why, it may still be a bit too early for Netflix to decide for sure whether there will be a second season. But with a 92% on Rotten Tomatoes (and a matching audience score to boot), it may be hard for Netflix to turn down the opportunity for more. 
All 13 episodes of 13 Reasons Why season one is available to stream on Netflix.
Mic has ongoing coverage of 13 Reasons Why. Please follow our main 13 Reasons Why hub here.