David Schwimmer teams up with Emmy Rossum and more for video series on sexual assault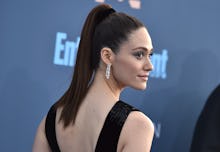 David Schwimmer has produced a series of videos addressing sexual harassment, intending to raise awareness regarding the subject. Titled #ThatsHarassment, the videos depict everyday scenarios in which people have experienced harassment from different coworkers, bosses and medical professionals, among others. 
Directed by Sigal Avin, the six-video series features Cynthia Nixon, Emmy Rossum and Cristela Alonzo in short films titled "The Boss," "The Coworker," "The Actor," "The Doctor," "The Photographer" and "The Politician."
"I grew up with stories of sexual harassment from my mom," Schwimmer, an actor and director, told Cosmopolitan of his motivation for the project. "Every woman in my family, in my life, has been harassed, except my daughter, thank god, who's only six."
Schwimmer acted in "The Boss," playing a supervisor who makes an inappropriate pass at his employee — after she tells him how much she needed the job and how happy she is with her salary. He then kisses her, telling her he wanted her to know how much she's appreciated. 
"In the course of these stories and this process, I was repeatedly putting myself in the mind-set of what it must be like to be a woman in the world today," Schwimmer said. "When you've been objectified your entire life and become accustomed to being a second-class citizen in many, many ways — constantly told that you aren't worth the same as men, basically, and that your body comes first, or what you look like comes first — it makes a lot more sense to me that a lot of women don't even recognize when they're being harassed. Because you spend your whole life not being treated with the kind of respect that men are automatically given."
The project is also meaningful for Rossum, who opened up about being a victim of sexual violence shortly after the election. She took to Instagram on Monday to share some behind-the-scenes photos from the #ThatsHarrassment project. She is featured in "The Politician" video.
Sexual harassment has been the subject of several high-profile news stories recently, including Bill O'Reilly's settlement with Fox News, as well as accusations made against Roger Ailes and the allegations against Casey Affleck that resurfaced prior to his Oscar win. But outside of high-profile celebrity cases, reports of sexual harassment continue for all women, particularly those in leadership or IT positions. 
Despite President Donald Trump's boasting of "grabbing [women] by the pussy," Schwimmer insisted his video series not be a partisan issue.
"Every woman, no matter what her political beliefs, is subject to sexual harassment," Schwimmer said. "This is not a partisan 'liberal Hollywood throwing their arms up against Trump' issue. That's not what this is. Having said that, I found his boasting of committing sexual assault really disturbing. I think our leaders have to demonstrate a certain kind of character. When I think about my daughter, I find that difficult to explain." 
Watch the entire series on YouTube.