Black physicians earn significantly less than their white colleagues, study finds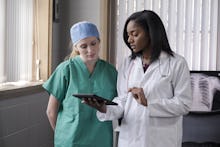 A wide-ranging new survey released Wednesday reaffirmed something disturbing about the medical profession: Black physicians in the United States are still making significantly less than their white colleagues. 
The 2017 Medscape Physician Compensation Report surveyed more than 19,200 physicians from more than 26 specialties of medicine to create a comprehensive view of physician compensation across the country. It found that while physicians' incomes have been steadily increasing since the survey began, there are some major pay disparities between doctors of different races.
White doctors make significantly more than black doctors.
Physicians who identified as white or caucasian made average annual salaries of $303,000, the survey found — 15% more than the average annual salary of doctors who identified as black or African-American, which was $262,000, according to a statement from Medscape.
"This was the first year that the Medscape survey asked about race," Michael Smith, the medical director and chief medical editor of WebMD/Medscape, said in a phone interview Tuesday. "We definitely saw a disparity."
The Medscape survey's findings confirm past research which indicates a pay gap between black doctors and their white counterparts. A study published in June found a similar disparity. 
If you're a black female doctor, the gap is even worse.
The pay gap is especially significant for black women, who are faced with the compounding factors of race and gender. 
The 2017 Medscape survey found that even though the gender pay gap among physicians improved in recent years, male primary care physicians still made 15% more than women in the same positions. Male specialists made 31% more than female specialists.
Why the racial disparity?
Despite some progress, a racial wage gap still plagues the U.S. In 2015, black full-time and part-time workers in the U.S. made 75% of their white counterparts in median hourly earnings, according to the Pew Research Center.
As for physicians, one factor driving the wage gap could be differences between certain fields of medicine, Leslie Kane, the senior director of Medscape Business of Medicine said in a phone call Tuesday.
"Primary care is one of the lowest paid specialties, and there's a higher percentage of black physicians in primary care," Kane said. Factors like location and patient pool could contribute to the racial disparity in pay.
The pay gap is just one form of discrimination black doctors face. There's also the rampant everyday racism — like when a Delta flight attendant refused to believe a black woman was a doctor during an on-flight emergency.