Donald Trump's approval rating continues to flounder after health care fail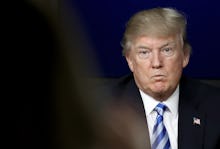 Voters continue to largely disapprove of President Donald Trump's work thus far, with a new Quinnipiac poll showing just 35% of voters approve of the job he's doing.
Trump's approval is down 2 points from the last Quinnipiac poll on March 22, right before the Republican health care plan to "repeal and replace Obamacare" failed to pass the House.
The poll's findings were similar to those from a March 29 Gallup poll, which also showed Trump hovering at 35%.
Quinnipiac found just 28% of voters approve of the way he's handling health care, while a stunning 64% disapprove.
"President Donald Trump continues to struggle, even among his most loyal supporters," Tim Malloy, assistant director of the Quinnipiac poll, said in a press release. "Many of them would be hard pressed to see even a sliver of a silver lining in this troubling downward spiral."
The health care bill's failure also took a toll on congressional Republicans. 
Just 21% of voters approve of the job Republicans are doing in Congress, while 70% disapprove. That's down from their 29% approval rating on March 22.
Even self-identified Republicans aren't thrilled with Republicans in Congress, with just 49% of Republicans approving of their own party's job.
Congressional Democrats, on the other hand, saw their approval rating climb slightly to 34%, up from 30% before the GOP's failed health care gambit.