Beyoncé's "Die With You" video is a celebration of her marriage on 9th wedding anniversary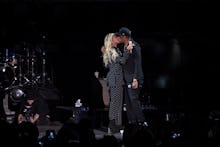 Beyoncé just topped every wedding anniversary surprise you've ever planned. On Tuesday, the 35-year-old singer released a new video for her song "Die With You," featuring never-before-seen home videos of her and husband Jay Z. The release corresponds with the couple's ninth wedding anniversary. 
"Die With You" was first released two years ago on Jay Z and Beyoncé's seventh wedding anniversary. The song was a surprise drop, made exclusively available on Tidal, and the accompanying video featured the singer at the piano.
The new music video starts off with the same shot of Beyoncé at the piano, but then cuts to footage of her and Jay Z throughout the years. You can watch via Tidal below or stream it in the service's player here.
In addition to the video, Beyoncé also released a Tidal playlist dedicated to her husband. The playlist is titled "IV EVER EVER" and features songs from Lauryn Hill, Michael Jackson, Robin Thicke, Kanye West, Coldplay and more. You can listen to the playlist here.
Beyoncé and Jay Z were married on April 4, 2008. Beyoncé's mom, Tina Lawson, took to Instagram on Tuesday to wish the couple a happy anniversary.
"9 years already???" she captioned the photo. "Congratulations to the Carters on their anniversary."