'Overwatch' Omnic Crisis Event: New Widowmaker skin teased for King's Row Uprising update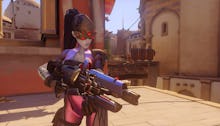 When April 11 rolls around, Blizzard is finally going to reveal its next Overwatch event, which looks to involve some sort of Omnic crisis in King's Row. Not much is known about this event other than the cryptic teaser Blizzard released Monday — but based on a recent interview with Overwatch director Jeff Kaplan, it looks like Widowmaker will finally be getting a new legendary skin.
Overwatch Omnic Crisis Event: Kaplan confirms Widowmaker is getting a new skin
"I think Widowmaker players who have wanted a skin might be very happy very soon," Kaplan said in an interview with PCGamesN regarding the forthcoming event.
Since the game's launch in May 2016, Widowmaker has received just one event-related skin — a pretty plain recolor for the Summer Games event. Kaplan previously teased that she would be getting a new legendary skin "soon" in his Reddit AMA — short for "ask me anything" — but now we know exactly when to expect it.
Blizzard hasn't yet revealed exactly what this new event will entail, but it looks to be centered around something big happening within the Overwatch universe itself rather than a tie-in with a real-world holiday. We'll know more for sure on April 11. 
More Overwatch news and updates
For more on Overwatch, check out the rest of what Mic has to offer. Here is a a look at a very funny but naughty meme on the Overwatch subreddit, an interview with the creator of an awesome new Overwatch zine, a full explanation of the different types of health in Overwatch, our definitive ranking of every Overwatch hero, a roundup of awesome gender-bent Overwatch cosplay and a giant Overwatch FAQ for beginners.