If Fox News executives fire Bill O'Reilly, it won't be because they care about women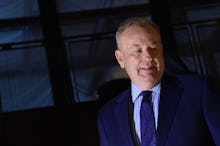 Fox News was once in hot water — now it's scalding. 
Sexual harassment allegations against former Fox News CEO Roger Ailes and veteran host Bill O'Reilly began to emerge in July, when then-Fox and Friends co-host Gretchen Carlson filed a lawsuit against Ailes, claiming she'd been fired as punishment for rejecting Ailes' sexual advances. Within four months, Ailes had resigned and Carlson had received a $20 million settlement — but by then, at least 20 other women had contacted Carlson's lawyers with their own harassment allegations against Ailes. 
In the following months, O'Reilly would face his own spate of sexual harassment allegations, but Fox News would let him keep his job. The news network's parent company, 21st Century Fox, and O'Reilly would spend $13 million to hush up five of his accusers. Now, executives are watching as 21 advertisers (and counting) pull their ads from O'Reilly's nightly show. 
Keeping O'Reilly on the air is costing Fox News handsomely — but it would be costly to see him go, too. O'Reilly is best known for his tough-talking, no bull, often offensive rhetoric — his mocking of Rep. Maxine Waters' hair being just the latest example. And his strategy is effective: His show, which, according to Kantar Media (a research firm) by way of NBC News, draws 4 million viewers every night and grossed some $446 million in ad revenue between 2014 and 2016, is in many ways the very flagship of Fox News. Now, having lost millions from their corporate sponsors because of O'Reilly, it's clear that the network is more concerned about finding a way to keep The O'Reilly Factor on the air than protecting the women at the company.
But Fox News' moneyed interests could give organizations like Color of Change and the National Organization of Women, which are both calling for his firing, the leverage they need to oust one of the most misogynistic men on TV.
"We're going to make it incredibly difficult for corporations to stand behind Bill O'Reilly," Rashad Robinson, the executive director of Color of Change, said in a Tuesday interview.
Color of Change is the racial justice advocacy organization that considers itself responsible for ousting Glenn Beck from Fox News after he accused then-President Barack Obama of harboring a "deep-seated hatred for white people" in 2009. This remark was far from the first time Beck had perpetuated "racist myth-making," according to Color of Change's press release at the time, but Robinson and his colleagues knew it could be just the thing to mobilize against.
Now he sees the same opportunity to take down O'Reilly.
"Fox News can employ whomever they want — and they've made it clear that they're willing to employ misogynists and racists and people who traffic in all kinds of hate rhetoric," Robinson said. "The question now is whether companies want to keep helping Fox make a profit off of that."
So far several major companies have given O'Reilly and Fox News pretty pointed fuck-yous on the way out the door.
"The allegations are disturbing and, given the importance of women in every aspect of our business, we don't feel this is a good environment in which to advertise our products right now," Mercedes-Benz spokeswoman Donna Boland told CNN Tuesday.
A representative from Bayer told the outlet the company "supports a safe, respectful and non-abusive environment for women," and, for that reason, executives had no choice but to suspend their ads.
It can't be easy for Fox to see these companies go. While O'Reilly's boasts a multi-million dollar revenue stream, losing 21 corporate sponsors is no small chunk of change. Fox News representatives said the company is working with advertisers to "address their current concerns about the O'Reilly Factor" — a courtesy executives didn't seem to extend to alleged victims of harassment.
Whereas Fox News opted to quietly settle O'Reilly's sexual harassment suits, many of Ailes' accusers claimed the network's executives retaliated against them for refusing the former CEO's advances. In her Monday lawsuit, former Fox News contributor Julie Roginsky said executives had been particularly harsh when she refused to hop aboard "Team Roger" and malign Carlson, who of course said herself the company had retaliated against her by terminating her contract.
If Fox News decides to oust O'Reilly like they did Ailes, it won't be because executives care about the women at the company — it will be because it's too costly to continue ignoring them.
The National Organization of Women called for O'Reilly's removal on Tuesday, asking for an independent investigation into Fox News' workplace culture.
"Mr. O'Reilly's case is part of a larger culture that condones the harassment and objectification of women at Fox News," NOW president Terry O'Neill said in a statement. "Men like Mr. O'Reilly and Mr. Ailes will never be stopped as long as their behavior is allowed to continue, even supported, by their employer." 
The same day, #DropOReilly began trending on Twitter, prompting women to share their own experiences of workplace harassment.
Fox News' fixation on its bottom line — coupled with the pressure coming from all sides to fire O'Reilly — could work to Robinson and his organization's advantage. He said on Tuesday that the staff at Color of Change don't have any special tactics up their sleeves, they just present advertisers with the facts.
"We're telling them, 'You can't come for our money by day and help make people like O'Reilly more powerful, more visible and more dangerous by night,'" Robinson said.
He added, "We're simply forcing these companies to make a choice. It should be an easy one."
"You can't come for our money by day and help make people like O'Reilly more powerful, more visible and more dangerous by night."
Robinson's faith in his organization's ability to fell O'Reilly simply by pressing the right buttons might go against our better instincts. After President Donald Trump, a man who nearly a dozen women have accused of sexual assault, won the 2016 election, many of us had begun to accept our lot — that rich, powerful men could not be touched.
"Tell me again how rape and sexual assault accusations will ruin a man's career," one Twitter user wrote on election night. The viral tweet seems to apply to far too many men, Ailes and O'Reilly included.
For this reason, Ailes' resignation had felt like a concrete victory. But the ousting of one man has done nothing for an organization with a legacy of harassment, sexism and inequality — which is why we shouldn't pin our hopes on O'Reilly's personal ruin either. 
Still, Robinson said if Color of Change succeeds in ending O'Reilly's tenure at Fox News, they'll have done more than just that.
"We won't fundamentally change the world when O'Reilly's fired, but we will send a powerful message," Robinson said. "We'll also help people recognize their power to make change and bring them into larger fights for systemic policy changes that will make more a more human and less hostile world."