Women use #DropOReilly to show how common workplace sexual harassment really is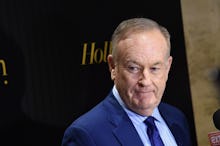 While details of the multiple sexual harassment allegations lodged against Fox News darling Bill O'Reilly have angered many, they haven't particularly surprised women who have been harassed in the workplace. Under #DropOReilly, women are sharing their stories of workplace sexual misconduct to show how common and how unacceptable behavior like O'Reilly's is.
On Tuesday afternoon, the Women's March issued a Twitter call for women to "use the power of our voice" to pressure advertisers to pull funding from the O'Reilly Factor, sharing their own stories of sexual harassment on the job. Women of Twitter immediately obliged.
"Was told to tape down my breasts and not to wear makeup in the field because, you know, men can't control themselves," user She Persisted tweeted.
"Was propositioned by [a] senior salesman in my department store job," Crazy Ex-Girlfriend actress Donna Lynne Champlin wrote. "Said no. I was fired the next day with no explanation. I was 17 years old."
Similar stories came pouring out.
According to the New York Times report published Saturday, O'Reilly has sustained a habit of inappropriate behavior toward his female colleagues. He and Fox News have together paid out around $13 million in settlements after women have sued over his verbal abuse, unwanted advances, gross comments and alleged habit of masturbating during phone calls. 
Wendy Walsh — who appeared regularly on O'Reilly's show — said that the host had offered, over dinner, to make her a contributor but rudely reneged when she declined to follow him up to his room after. That's an experience with which many women on Twitter easily identified.
"At 22 I was working in a restaurant and my boss locked me in a closet telling me I needed to kiss him to change my schedule," Marisa Brown wrote.
As a result of the Times investigation, a number of advertisers have already pulled out of their deals with the show. But the problem at Fox is bigger than O'Reilly: At least 20 women have publicly accused disgraced Fox News CEO Roger Ailes of sexual harassment, the most recent lawsuit to be added to that growing list having arrived on Monday. 
The network would certainly appear to foster an environment unfriendly to women, but according to Twitter, that's a constant at many workplaces.
"I haven't held one job where there wasn't some form of harassment for simply being a female," The Kelli Rose tweeted, along with longer stories of being berated by a male coworker for pointing out a costly flaw in his work and of being denied a raise for breastfeeding her child. 
An estimated one in three women has been sexually harassed at work. In all likelihood, the actual number is far higher: As women of Twitter will attest, sexual harassment happens in every job, in every industry, at every age.