Beyoncé released a 63 track playlist for Jay Z and it's super romantic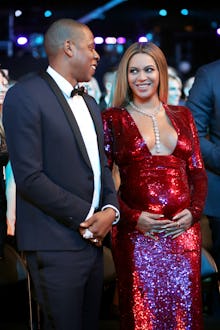 Struggling to find the perfect anniversary gift? Beyoncé's got you covered. On Tuesday, the singer released a playlist for husband Jay Z on their ninth wedding anniversary.
The playlist, which consists of 63 songs, is exclusive to Tidal and titled "IV EVER EVER." It includes romantic tunes like The Flamingos' "I Only Have Eyes For You" and Michael Jackson's "Butterflies." You can check out the full track list below and listen to it here:
"Anniversary," Tony! Toni! Toné!
The playlist wasn't the only way Beyoncé celebrated their anniversary on Tuesday. She also released a new music video for her 2015 song "Die With You." While the original video just features the singer at the piano, the updated version includes home videos of her and Jay Z throughout the years. 
Beyoncé and Jay Z got married on April 4, 2008. The couple welcomed their first child, Blue Ivy, on Jan. 7, 2012, and announced in February they're expecting twins.
Mic has ongoing music coverage. You can check out our main music hub here.