Eric Trump: Nepotism is "kind of a factor of life"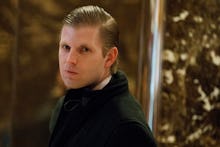 "Nepotism is kind of a factor of life," Trump, 33, told Forbes in a Tuesday interview. "We might be here because of nepotism, but we're not still here because of nepotism."
Eric Trump, one of the two adult Trump children running the president's sprawling worldwide business empire while he serves in office, freely offered up his take on nepotism.
"You know, if we didn't do a good job, if we weren't competent, believe me, we wouldn't be in this spot," he added.
In fact, Trump said, his father is the kind of person who would rather fire one of his children than put up with substandard work.
"He's a guy, no matter where it is, he expects people to perform," Trump concluded. "And if they're not performing, he kind of encourages them to go on their way. You know the one thing, Don [Trump Jr.], Ivanka and I never let him down really in any factor of life. And I think it's one of the reasons that we're as innately close as we are."
So, to summarize, the president's third-eldest is at least acknowledging he holds a position of inherited privilege, but also believes he's earned it. This is similar to how former New York Observer editor-in-chief Elizabeth Spiers described Trump's brother-in-law, Jared Kushner, saying Kushner believed his "position and net worth as the products of an essentially meritocratic process."
But decades of economic and social research have shown inherited advantages are crucial to understanding economic hierarchy in the U.S., while social mobility is at all-time lows. What's more, the Trump presidency seems poised to make inequality even worse across the country at the same time his family members and business associates seem poised to cash in — often at direct taxpayer expense. 
But, according to Eric Trump, that's just the way it is.