Trump just blamed Obama for Syria's president gassing his own people. Seriously.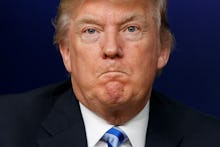 President Donald Trump blamed former President Barack Obama for the atrocities that took place in Syria on Tuesday, in which Syrian President Bashar al-Assad's regime launched a chemical attack on their own people, killing at least 58.
While Trump called the chemical attack "reprehensible," he said Assad's actions were a "consequence of the past administration's weakness and irresolution."
"President Obama said in 2012 that he would establish a 'red line' against the use of chemical weapons and then did nothing," Trump said in a statement. "The United States stands with our allies across the globe to condemn this intolerable attack."
Trump, however, made no mention of how the U.S. should respond to the attack. In the past, he said Obama shouldn't use force against Assad — even if the Syrian leader employed chemical weapons.
"AGAIN, TO OUR VERY FOOLISH LEADER, DO NOT ATTACK SYRIA," Trump tweeted in September 2013. "IF YOU DO MANY VERY BAD THINGS WILL HAPPEN & FROM THAT FIGHT THE U.S. GETS NOTHING!"
He has, however, attempted to ban Syrians seeking an escape from the attacks from entering the U.S. Syrian refugees were singled out for an indefinite ban in Trump's first travel ban, which was blocked by the courts.
The revised travel ban, also blocked by the courts, took out the extra level of harshness against Syrian refugees, including them in a blanket temporary ban with other refugees from around the globe.