What is Bossland? Everything you need to know about the $8-million 'Overwatch' lawsuit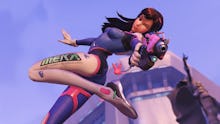 The folks at Blizzard Entertainment — you know, the company behind World of Warcraft and Overwatch — were just awarded $8.6 million in a lawsuit against Bossland, a service that sells illegal cheats for a number of popular online video games.
Here's what you need to know.
What is Bossland? What did it do?
Bossland is a German company that creates all sorts of bots, hacks and cheats for a number of games made by Blizzard Entertainment, like Diablo 3, Overwatch and World of Warcraft. For example, Bossland was selling a program called "Watchover Tyrant," which allowed Overwatch players to see enemies through walls, according to Kotaku.
In March, Blizzard sued Bossland for 42,818 copyright violations for bypassing their cheat protection technology "Warden" in order to manufacture these bots, according to TorrentFreak.
After failing to represent itself in court, the California District Court awarded Blizzard a whopping $8,563,600 for these copyright violations, not including the $174,872 in attorneys' fees to which they are also entitled.
In addition to the monetary damages it owes, Bossland is also prohibited from advertising and selling its products within the United States. Given Bossland's lack of court representation thus far, it's unclear exactly what its next steps will be, though it told TorrentFreak it would "continue the legal battle."
Bossland's cheats are still available in other regions, so this is likely not the last we will hear of Blizzard's ongoing battle against cheaters and those who create the tools they use.
More Overwatch news and updates
For more on Overwatch, check out the rest of what Mic has to offer. Here is a a look at a very funny but naughty meme on the Overwatch subreddit, an interview with the creator of an awesome new Overwatch zine, a full explanation of the different types of health in Overwatch, our definitive ranking of every Overwatch hero, a roundup of awesome gender-bent Overwatch cosplay and a giant Overwatch FAQ for beginners.