Maricopa County Sheriff announces shutdown of Tent City, Joe Arpaio's infamous jail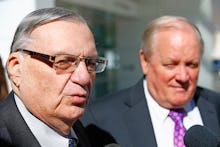 Tent City, the infamous open-air desert jail founded by Arizona's former Maricopa County Sheriff Joe Arpaio, is coming down.
Newly minted Democratic Sheriff Paul Penzone, who defeated the ethically-challenged Arpaio by a wide margin in November, announced the facility would be dismantled in a Tuesday press conference, 12 News' Brahm Resnik reported.
"The circus ends and it's coming down today," Penzone said.
The Arpaio-founded jail acquired an infamous reputation for holding inmates — many of whom were detained under his hardline immigration enforcement policies — outdoors in sweltering Arizona summer heat. Temperatures often soared north of 110 degrees Fahrenheit, while Arpaio forced the inmates to wear pink outfits and eat disgusting meals.