Who is Mark Green? What to know about Trump's potential anti-LGBT pick for Army secretary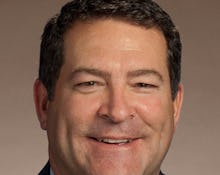 President Donald Trump has reportedly chosen State. Sen. Mike Green (R-Tenn.) to be the secretary of the Army. Trump's pick would succeed the first  out gay secretary of the Army, Eric Fanning, who served under President Barack Obama. 
The low-profile politician is described by LGBTQ Nation as the "most anti-LGBTQ lawmaker" in the state of Tennessee. Ashley Broadway-Mack, president of the American Military Partner Association, says Green has a "shameful political career" marked by a "vicious, anti-LGBT record."
Green is a Tea Party-associated Republican who prominently describes himself as "Christian" on his official web page.
Green's proactive anti-LGBTQ history obscured by military service
Controversy around Green's views centers on his activity in the Tennessee legislature.
The hardline Republican is the chief sponsor of Tennessee Senate Bill 127, an anti-LGBTQ measure that prevents the government from taking any action against businesses who engage in discrimination against their customers or employees on bases not defined in federal law. 
The state has no protections on the basis of gender identity or sexual orientation, making the law a baldfaced attempt to enshrine the legality of discrimination against those who don't currently enjoy explicit protections under federal law.
Green's bill goes so far as to include public universities, putting students at particular risk of discrimination.
The anti-LGBTQ activities of Green have gone largely unnoticed due to the attention he received for his military service. 
Per Politico,
"Green, a 1986 graduate of West Point, served as an Army special operations flight surgeon during the Iraq War. In 2003, he interviewed former Iraqi dictator Saddam Hussein after his capture by U.S. special forces, and later penned a book on the event titled 'A Night With Saddam.' Green was elected to the Tennessee state Senate in 2012 and is the chairman and CEO of Align MD, a hospital staffing company."
Given the furor over this reported pick, Trump could easily rescind it. The official announcement of his nomination hasn't been made and Green would likely have an explosive confirmation in the U.S. Senate as Democrats attack his record.
But LGBTQ Americans have reason to worry, as Trump's tendency toward appointments who oppose LGBTQ rights is already well-established.