Women do not currently have equal protection under the Constitution. Here's why that matters.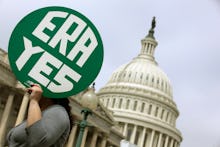 Opinion: Mic invites contributors and staff members to offer commentary and context about news and timely issues.
Tracy Rexroat was hired as an education program specialist for an Arizona Department of Education program in 2007. During her tenure, she discovered that her starting salary was more than $17,000 lower than that of her male colleagues. So she sued under the Equal Pay Act of 1963, which protects workers from sex-based wage discrimination. 
But, as the director of the program explained in a deposition, Rexroat wasn't paid less because she was a woman; her previous salary had been used to determine her starting pay. In ruling against Rexroat, the court relied on a prior ruling that unequal starting salaries do not violate the Equal Pay Act as long as there is an "acceptable business reason" for their existence.
Rexroat was doing substantially the same work as her male colleagues. Yet neither the Equal Pay Act nor Title VII of the Civil Rights Act (the law that protects women from workplace discrimination) could help her, since both contain exceptions for things like "acceptable business reasons." 
Rexroat needed the Equal Rights Amendment (ERA), which would raise the standard of judicial review by how the inequity is judged – lending more weight to Rexroat's rights and less to an employer's rationale for violating them. 
So what's the hold up from ratifying the ERA into the constitution?
Originally proposed in 1923, the ERA was introduced in every session of Congress until 1972, when it passed Congress and went to the states for ratification.
By 1982, it had fallen three states short of the number required to ratify it and add it to the Constitution. The ERA's most effective foe was Phyllis Schlafly, the shrewd anti-feminist godmother of alternative facts who toured the country claiming that the ERA would force women to register for the draft and use the same bathrooms as men, as well as paving the way for "sex mixing," "homosexual marriage" and "homosexual schoolteachers."
She wasn't wrong. By 2017, most of the social changes Schlafly feared have already come about or are well on their way, without the help of the ERA. But continued progress is not guaranteed.
Pay equity is one of several issues crucial to women's equality that could be aided by the ERA, including access to reproductive and maternal health care, freedom from gender-based violence, and pregnant workers' rights. Without the ERA — and with President Donald Trump, a GOP-controlled Congress and a Supreme Court potentially packed with Scalia clones — women's rights are in jeopardy. That's why congressional Democrats are reviving the fight to write women's equality into the U.S. Constitution, and the New York Times' editorial board is endorsing it. Democrats have introduced bills in the House and Senate proposing the ERA and eliminating a previously established (some say arbitrary) deadline for ratification.
Nevada ratified the ERA on March 22, 2017, 45 years to the day after Congress passed it in 1972, bringing the number of states that have ratified it to 36 — just two states shy of the number needed to change the Constitution. For the ERA to become a reality, two things must happen: (1) Congress must extend or eliminate the 1982 deadline for ratification, and (2) two more states must ratify the ERA to reach the 38 states needed to amend the Constitution.
Despite progress – American women still need constitutional protections 
The new urgency to pass the ERA comes in response to a presidential administration and Congress deeply hostile to women's equality. With Congress's help, the Trump administration can and will hold women back in a number of ways, from making it harder to sue for sex discrimination to failing to enforce anti-discrimination laws or the mandates of anti-discrimination agencies. 
The president himself, in addition to bragging about grabbing women's genitals, has described pregnancy as an "inconvenience" to employers, suggested women should be punished for having abortions and vowed to appoint Supreme Court justices who would overturn Roe v. Wade.
Ostensibly, the U.S. still has government agencies and officials tasked with upholding women's rights. But the existence of such people and institutions is no guarantee of equal treatment. Shortly after its formation, the Equal Opportunity Employment Commission could only mediate disputes, not sue employers, and it took "a soft approach" to combating sex discrimination. Justice Clarence Thomas, against whom multiple women have leveled consistent, credible allegations of sexual harassment, was the EEOC's longest-serving chair, from 1982 to 1990.
In 2010, Supreme Court Justice Antonin Scalia (who died in 2016) made headlines and antagonized liberals by telling a law school audience that the Constitution does not guarantee equality for women. Of the 14th Amendment, which was drafted after the Civil War to ensure equal protection for former slaves, he provocatively stated, "Nobody thought it was directed against sex discrimination."
Scalia's comments contradict a number of high-profile rulings. In a 1971 case argued by Ruth Bader Ginsburg, then a lawyer with the American Civil Liberties Union, the Supreme Court ruled that the 14th Amendment's Equal Protection Clause does indeed apply to women. At the time, there were no women on the Court, let alone any known feminists. Chief Justice Warren Burger, a conservative appointee of Richard Nixon, wrote that decision.
Scalia's death hasn't paved the way for a more progressive court —and if President Trump's nominee, Scalia clone Neil Gorsuch, is confirmed, it will be as if Scalia never passed. At his confirmation hearing, Gorsuch refused to say whether or not he agreed with Scalia's interpretation of the 14th Amendment.
Gorsuch's record indicates that he holds the rights of corporations and male governors in higher regard than the rights of women. In 2013, he joined a majority on the U.S. Court of Appeals for the Tenth Circuit in reversing a ruling in Hobby Lobby Stores, Inc. v. Sebelius – giving Hobby Lobby the ability to deny women's health care if it conflict with their religious view. In 2016, Gorsuch defended Utah governor Gary Herbert's efforts to defund programs of the local Planned Parenthood affiliate. 
Let's say Scalia's interpretation of the 14th Amendment — one it is possible Gorsuch shares — was correct. Isn't that why we have laws banning discrimination against women?
In 2009, President Barack Obamasigned the Lilly Ledbetter Fair Pay Act, which amends the Civil Rights Act of 1964 to allow women who are paid less than their male coworkers for equal work more time to file a lawsuit — a benefit of limited usefulness, since, without pay transparency, women are unlikely to find out they're being discriminated against in the first place (Ledbetter only learned she was being underpaid from an anonymous tip).
It's true that women are covered by the Civil Rights Act of 1964, thanks in large part to Democratic congresswoman Martha Griffiths, who advocated for sex to be included as a protected class, along with race, color, religion and national origin.
But women were an afterthought, and legislators' motives for supporting their inclusion were mixed. A key ally of Griffiths' was Howard W. Smith, a pro-segregation, anti-labor Democratic congressman from Virginia. Smith shared Eleanor Roosevelt's belief that writing gender equality into law would weaken or destroy certain labor protections; unlike Roosevelt, he didn't see that as a bad thing. According to the New Yorker, "Virginia textile mills employed large numbers of women, and Smith was interested in any legislation that might benefit mill owners."
As Smith and his mill-owning cronies had hoped, a federal district court ruled in 1968 that sex-specific state labor protection laws were unconstitutional under Title VII of the Civil Rights Act of 1964. (Happily for American workers, if not for Smith, most labor laws remained intact; they were simply rewritten to apply to both sexes.)
The ERA sets a stronger legal standard to protect women
As Scalia noted, women are not explicitly guaranteed equal protection under the Constitution. Maybe that doesn't sound like a big deal, after all, women have made significant strides and can use existing laws to protect themselves against things like workplace discrimination. But, by officially enshrining Rexroat's rights in the Constitution and raising the standard of review applied to cases like hers, it would radically improve women's chances of receiving equal pay for equal work. It would also provide them with a higher standard of protection from gender-based violence and make it harder to deny them access to health care, reproductive or otherwise, and accommodations during pregnancy.
Anti-discrimination laws are often toothless to begin with, weakened by hostile court rulings, or selectively enforced. They can also be repealed, as we've seen the GOP attempt to do with the Affordable Care Act. Under the Trump administration, civil rights laws are especially vulnerable. A constitutional amendment would be much harder to dilute or reverse — and there is fresh momentum behind it, thanks to a women's movement reignited by our groper-in-chief.
Our contemporary understanding of equality is broader than it was when the amendment was first conceived. Women still want equal pay for equal work and equal access to higher-paying jobs. But we also want support for working mothers, including paid maternity and family leave and state-subsidized child care; equality for single, lesbian and queer women and families that don't include men; the right to control our bodies; and freedom from gender-based violence.
"If I could choose an amendment to add to the Constitution, it would be the Equal Rights Amendment," Justice Ruth Bader Ginsburg said in 2014. "I would like my granddaughters, when they pick up the Constitution, to see that notion – that women and men are persons of equal stature – I'd like them to see that is a basic principle of our society."
The ERA could have secured economic justice for Tracy Rexroat. It could pave the way for all women to enjoy the same rights as the men who wrote the Constitution. And it has the full-throated support of the Notorious RBG. What more are we waiting for?