Some passages of Gorsuch's 2006 book appear to be copied nearly verbatim from sources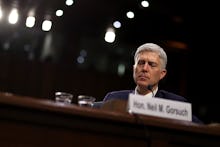 Judge Neil Gorsuch, President Donald Trump's pick to serve on the nation's highest court, copied a short passage from a 1984 law review article nearly verbatim into his 2006 book, BuzzFeed and Politico reported Tuesday.
According to BuzzFeed, a passage about two paragraphs long in the Supreme Court nominee's book The Future of Assisted Suicide and Euthanasia appeared to repeat "language and sourcing" from Abigail Lawlis Kuzma's 1984 Indiana Law Journal article "The Legislative Response to Infant Doe."
A color-coded version of the relevant passage can be seen below.
Similarities also appeared in at least seven endnotes.
The duplicated sentences are primarily factual descriptions of Down syndrome, a genetic disorder, as well as certain legal circumstances surrounding a case.
BuzzFeed reviewed nine other case-summary sections from the chapter in question and found one of them "appears to have repeated some language from an uncredited law review article, although less extensively." Another section cited a foreign-law decision, "but large quotations are reprinted directly without using proper attribution."
In a statement provided by the White House and given to BuzzFeed, Kuzma said "I have reviewed both passages and do not see an issue here, even though the language is similar. These passages are factual, not analytical in nature, framing both the technical legal and medical circumstances of the 'Baby/Infant Doe' case that occurred in 1982. Given that these passages both describe the basic facts of the case, it would have been awkward and difficult for Judge Gorsuch to have used different language."
However, when Politico contacted six academic ethicists, it found various conclusions ranging from "clear impropriety to mere sloppiness."
"Each of the individual incidents constitutes a violation of academic ethics," Professor Rebecca Moore Howard of Syracuse University told the site. "I've never seen a college plagiarism code that this would not be in violation of."
"It's a little bit risky, but I wouldn't say it rises to the level of a bad act," said New York University law professor Christopher Sprigman. "I think some people would say it's sloppy."
More immediately relevant than the accusations of improper sourcing may be the looming political fight over Gorsuch's nomination to the court.
Republicans are short on the 60 votes they need to confirm Gorsuch to the court without risking a Democratic filibuster. If the GOP does not flip at least eight Democratic senators into supporting his nomination, Republicans have the option of circumventing the inevitable filibuster by changing Senate rules to allow a simple majority vote — an extreme measure nicknamed the "nuclear option."