Minnesota lawmaker has zero time for white male colleagues' sexism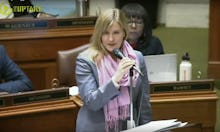 Minnesota House Minority Leader Melissa Hortman does not have time for her male colleagues' rude behavior. When a pack of the men with whom she works absented themselves during a speech by Ilhan Omar on Monday, Hortman dragged them back from their mini-recess with a fun dig.
"I hate to break up the 100% white male card game in the retiring room, but I think this is an important debate," she said, according to the Minneapolis newspaper City Pages. 
Omar, the country's first female Muslim and Somali-American lawmaker, was speaking out against a public safety budget bill that would increase punishments for blocking Minnesotan freeways. According to the City Pages, Omar reasoned that the bill would limit people's right to peaceful protest, and would have stood in the way of historic demonstrations like Martin Luther King, Jr.'s Selma march. 
Many male representatives missed this argument, because they had left the House chamber to cool their heels in the retiring room. So Hortman issued a "call of the House," summoning the missing men back to their seats. And then she hit them with her card game insult, which didn't sit well with everyone.
Rep. Bob Dettmer, a self-identified white man who "respect[s] everybody," asked Hortman to apologize, according to the City Pages. Instead, she doubled down, emphasizing that her fellow representatives' behavior was particularly disrespectful toward women of color:
Representative Dettmer, I'm glad you asked me to yield. I have no intention of apologizing. I am so tired of watching Rep. Susan Allen give an amazing speech, Rep. Peggy Flanagan give an amazing speech, watching Rep. Jamie Becker-Finn give an amazing speech, Rep. Rena Moran give the most heartfelt, incredible speech I've heard on this House floor, as long as I can remember, watching Rep. Ilhan Omar give an amazing speech ... and looking around, to see, where are my colleagues? And I went in the retiring room, and I saw where a bunch of my colleagues were. And I'm really tired of watching women of color, in particular, being ignored. So, I'm not sorry.
The Associated Press reported that Rep. Greg Davids, also a white man, has suggested that Hortman should resign, having created a "hostile work environment" within the Minnesota House, which is overwhelmingly white and overwhelmingly male. Republican legislators plan to write a strongly worded letter in response to Hortman's rebuke.