Portland is giving away free houses — in exchange for this act of generosity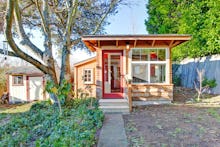 If you love free stuff, extra living space — and giving to the needy — you might want to consider moving to the American Northwest. Oregon's Multnomah County is finding inspiration in the old adage "charity begins at home" with an imaginative new program for reducing homelessness.
The county, which includes the city of Portland, is launching a pilot project in summer 2017 called "A Place for You." It involves building tiny homes in people's backyards to house homeless families. After five years of assisting those in need, the dwellings belong to the landowners, who can then do what they want with them, including rent out the space.
More than 800 local residents have already expressed interest in the program, which will start with four dwellings and be funded with $350,000 from a combination of nonprofit and government sources. First announced in March, the program has already attracted so much interest that it is no longer currently accepting applications from homeowners.
How the backyard shelter idea arose
While the number of homeless adults in Portland didn't change between 2013 and 2015, according to county statistics, the population is large: There are nearly 4,000 homeless people throughout Multnomah County and more recently there has been a 48% uptick in the number of homeless black residents, specifically.
"Like many large cities, we have a crisis when it comes to homelessness," Marc Jolin, head of the county's Joint Office of Homeless Services, told Fast Company. "We've done a lot to expand shelter capacity and expand support services, but where we struggle the most is around finding permanent housing options that are affordable for very low-income people."
Unlike traditional shelters, where people are constantly moving in and out, the backyard dwellings could create a stronger sense of home: "Tenant families would benefit from the stability and privacy that come with leaving shelter or situations where they're doubled-up with other families, sometimes in crowded and unsafe conditions," according to a press release on the project.
"This is an innovative idea to provide non-shelter alternatives to homelessness," Portland Mayor Ted Wheeler in a statement to Willamette Week.
How the sheltering program will work
While the backyard units will be only a couple hundred square feet in size, they will have plumbing and electricity, as Multnomah County's press release explains. And unlike many other tiny house designs, they will not be on wheels. The design hasn't been finalized yet, but will be overseen by local nonprofit Enhabit, not by the county itself.
Given space constraints, smaller families will likely be selected. They will also receive social service support throughout the time they live in the units. 
Homeowners will receive support services and will not have to pay for the units installed in their backyards. The county is also looking into offering property tax abatement for homeowners for the entire period they are sheltering the homeless on their property.
If the pilot program is successful, hundreds of these small dwellings could eventually dot backyards throughout the county, Mary Li, director of the Multnomah Idea Lab, which is involved with the project, told Willamette Week: "My hope is, we prove this concept, and we do 300 of these in the next 12 months."
Sign up for The Payoff — your weekly crash course on how to live your best financial life. Additionally, for all your burning money questions, check out Mic's credit, savings, career, investing and health care hubs for more information — that pays off.