When is 'Sense8' season 2 coming out on Netflix? Here's what we know.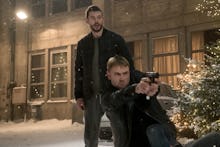 Season two of Netflix's Sense8 is coming. 
The series intertwines the lives of several individuals who are suddenly linked mentally. Once they're bonded together, they have to join forces to stop those tracking them down and trying to eliminate them. 
The show first premiered on June 5, 2015, so it has been almost a two-year wait for a second season. Season one is currently available to stream on Netflix if you're looking to catch up in time for the premiere of season two. 
Release date
Season two arrives just in time for those hot summer weekends when you don't want to leave the house. The second season of Sense8, which consists of 10 episodes, is set to drop on Netflix on Friday, May 5.
Season two plot
Netflix has the synopsis for the newest season of the hit show. Sense8 returns for its sophomore season by picking up right where the first season ended:
Capheus (Toby Onwumere), Kala (Tina Desai), Lito (Miguel Angel Silvestre), Nomi (Jamie Clayton), Riley (Tuppence Middleton) , Sun (Donna Bae), Will (Brian J. Smith) and Wolfgang (Max Riemelt) come together both physically and mentally, plunged into the middle of each other's tragedies and triumphs. On the run from Whispers (Terrence Mann), and forced to question their very identity, it's a matter of survival as the Sensates must find a way to live with, understand and protect one another against all odds.
Sounds like we're in for another memorable season of Sense8. 
Mic has ongoing TV coverage. Please follow our main TV hub here.