Rex Tillerson North Korea: Nobody knows what "no further comment" statement means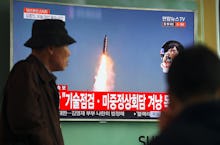 Nobody seems to know what Secretary of State Rex Tillerson meant in his 23-word response to North Korea's missile launch Wednesday. 
"North Korea launched yet another intermediate range ballistic missile," Tillerson said in a statement. "The United States has spoken enough about North Korea. We have no further comment."
North Korea's latest test — which came just days before President Donald Trump was to meet with Chinese President Xi Jinping — launched the ballistic missile about 40 miles into the waters between the Koreas and Japan from the North Korean port city of Sinpo. 
The test appeared to be of a KN-15 medium-range ballistic missile, which North Korea also tested in February. The country had a failed test-launch in late March, but earlier in the month had fired four missiles toward Japan, the closest coming 190 miles from the coast, Reuters reported.
Wednesday's launch — which violated a United Nations Security Council ban — was met with condemnation from South Korean and Japanese leaders. 
But Tillerson's brief, cryptic statement made the U.S. response to the missile-test unclear. 
"I've read a lot of rote reaction statements," tweeted New York Times national security correspondent David Sanger, " but rarely one like this. Could be: We're coming for you. Could be: Forget the whole thing."
That uncertainty, CNN's Chris Cillizza noted, can be dangerous.
"Words matter," Cillizza wrote. "Misunderstandings can cause international incidents — or worse."
"Tillerson is the leading edge of America foreign policy," Cillizza continued. "As such, his most important job is to ensure that other countries know exactly where the U.S. stands when a major international event — like the one in North Korea — occurs."
Trump, for his part, has been talking tough on North Korea ahead of his meeting with the Chinese president at his Mar-a-Lago resort in Florida. 
A White House official suggested recently that the administration may be considering a military response to North Korea's missile-testing, and Trump has been critical of China for doing, as he Tweeted in March, "little to help."
"North Korea is behaving very badly," Trump tweeted. "They have been 'playing' the United States for years. China has done little to help!"
"Well, if China is not going to solve North Korea, we will," Trump told the Financial Times over the weekend. "That is all I am telling you."
It's possible, based on Trump's rhetoric, that Tillerson's ambiguous response to Wednesday's test launch indicated that the U.S. will follow up on its tough talk. But it's difficult to know for sure from his cursory statement.
"It's the strangest thing I've ever seen from State," BBC White House reporter Tar McKelvey wrote on Twitter. "Maybe they were trying to be funny (a really bad idea for government officials."